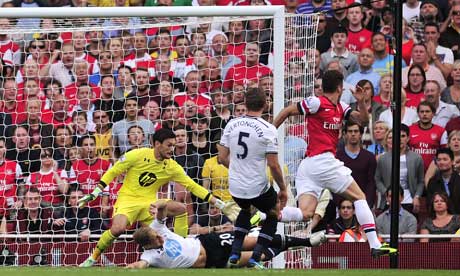 Morning, folks.
Let's get the gloating out of the way first:
HAHAHAHAHAHAHAHAHAHAHAHAHAHAHAHAHA!!!
Right, now that's done, I shall share a few of my thoughts about the game – a match that was hardly a classic by any means, but certainly one that produced a very favourable result along with a few signs of encouragement.
Arsenal didn't boss the game, we didn't outplay Sours and dispatch them comfortably. They had the greater share of possesion and managed a few more attempts on goal. What counted was our ability to defend well as a unit, and the chances we did create were far better. One very good save from Szczsney from a deflection off Koscielny was the closest we came to conceding.
For all those stats, I never felt worried. Spurs didn't really do anything of note, and looked more hopeful than they ever did a capable side.
I'm going to keep this short as I've got an early start, and I'm bloody tired. The performances yesterday that stood out for me were Giroud and Flamini. The former's finish, dedication and hold-up play was exceptional, and the latter came on and did something we've lacked for some time; he talked and organised.
All in all, a great day and a delicious victory against the £100m men.
No post today would be complete without mention of the transfer wondow. At 8pm tomorrow you'll be able to catch my dulcet tones once more on The Bergkamp Wonderland podcast where I'll be involved in a broadcast covering events in their entirety.
Last night the rumours went MENTAL. With ol' chimp-face completing his move to Real Madrid, the speculation was rife of Arsenal moving for Mesut Ozil in a deal that would comfortably shatter the Club's record fee paid. Sweet Lord, please let this one be true. In a summer of floundering and dissapointment, I'd probably be able to forgive it all if the final day produced a shiny new Ozil. He's a wonderful, wonderful player, and would give the whole Club and enormous boost.
Fingers crossed.
When asked, Arsene had these words to say:
"You will see what we will announce. If we sign someone I promise that we will be very quick to announce it, but maybe we have a good surprise for you.

"I believe, ideally, you want strength in the squad because you get long-term injuries and you always want more quality. But we are working very hard and let's give us time, until tomorrow at 11 o'clock."
Sounds encouraging. Sounds like we can have one more day of hope, and perhaps it will reward us for the shower of sh*t we've been trapped underneath for months. A couple of big names through the door at The Emirates would be the perfect start to September along with a victory over Spurs.
Come 11pm today, we'll know for certain. Should be a very interesting day.
So, dear readers, what are your hopes? Are you expecting big news today, or are you resigned and miserable, set-up for bad news? Let me know in the comments.
As always: thanks for reading, you beautiful bastards.