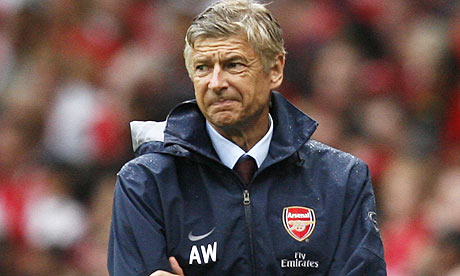 Evening, all.
I've just finished penning/keying tomorrow's review which you'll all be able to read… well… tomorrow. As I'm wide awake and looking for ways to entertain myself that don't involve turning the lights down and looking at porn, I've devised this special list of reasons I came up with to explain Arsene's lack of any substitutes during the insipid 0-0 draw with Mourinho's hacky little reprobates.
Here they are (It's late, I'm in the state of silly delirium I occasionally get in, so this list will not be sensible):
Temporary senility. Arsene is getting on in years, we mustn't forget that.
The subs had all been naughty, and were grounded.
All 5 players will feature at West Ham
He was so angry with Mike Dean, he forgot.
Allowing Flamini on the pitch would have resulted in a red card and two murders.
He made a bet with a Chinese syndicate and won a fortune.
Arsenal blogger Dave Seager stole his pyjamas
He wanted to personally upset everyone on Twitter before Christmas
He simply couldn't be arsed.
There was a plan to make the customary substitute on 69 minutes, but Mourinho's dour tactics put Arsene into a trance and the minutes passed like hours, his strength to continue was sapped and he sat depressed on the bench unable to function. The marvels of modern medicine thankfully have allowed him to make a full recovery.
Or perhaps there was a good reason we all don't know about. It is possible, right? It's not like Arsene to do something as bizarre without good reason, so we ought afford him the benefit of the doubt, shouldn't we? No? More abuse for little or no good reason?
Wonderful… I shall look forward to that.
In the meantime, post a comment. Why do you think he made the choice not to introduce fresh legs into the game? Let me know what you think. I probably shouldn't post this. It's a bit stupid…
Oh, f**k it.
As always; thanks for reading, you beautiful bastards.