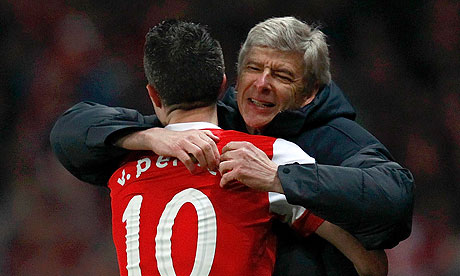 Friday morning greetings, regular reader.
Firstly, apologies for the lack of any post yesterday. On occasion, my work and personal life will conspire to prevent me from having the time to write. Those instances will, hopefully, be few and far between. It was nice to hear some of you missed my daily contributions and I thank you all for your support.
Right, on to The Arsenal.
Most of the news in centred around our bare minimum midfield at present. By now, you'll all be aware that Mikel Arteta is ruled out for the remainder of the season with ankle ligament damage. The Spaniard has steadily grown into a vital player at the centre of the team, so obviously it's a big blow.
Abou Diaby is back in full training and managed a full 45 minuted as the reserves played out a 1-0 victory against an Oman XI. Some reports are filtering through that he picked up another injury playing in that game which will prevent him from being available for Saturday. I doubt he would have been involved from the start, but given the paucity of options available to Wenger at the moment, a place on the substitutes bench did seem likely.
There are some that believe Diaby should be sold or moved on if his injuries continue. His problems appear interminable, and paying a substantial wage to a player unable to feature regularly is money wasted when it could be put to better use elsewhere. I agree with that to an extent. Diaby himself isn't to blame, and I feel for him. He's got talent in spades, and with a bit of luck, he could be a really good player for us. I'd give him next season, and if the same troubles are there, seriously consider cutting our losses.
Jack Wilshere is sensibly being omitted from Euro 2012. However, there are rumours he will be selected for the Olympics squad. Wenger has advised him against playing. Jack loves his football, and he loves his country. I think he could very well turn out for the Great Britain side. I hope he doesn't. That time would be far better served allowing him to get re-accustomed to his teammates at Arsenal.
Elsewhere, Gervinho has been having a chin-wag with the press, talking of his pride and Arsenal's form. He said:
"In life you will always be criticised. We had to prove to the people who didn't believe in us that we were able to come back by playing well on the pitch.

"The result is here today. Our progression during the season speaks for itself on the pitch.

"We want to be among the top three. The whole group is very motivated and we are already happy to be where we are.

"We can still do better with the four matches coming. We are fighting only for third place, we don't think about fourth spot.

"Everybody is determined to fight until the end, from the players and the manager to the fans, to maintain third place. If we manage to keep it then everybody should be proud because we fought very hard for it."
I like Gervinho. Like Bobby Pires, I see him as a very affective 2nd-season player. If he works of his finishing over the summer and grows in confidence, he'll do some really damage. He has all the attributes to succeed, it's just a mental block.
Lastly today, the PFA Player of the Year awards are out, and there can be only one winner in my eyes. Yes, I'm extremely biased, but if anyone can give me a more deserving candidate than Robin van Persie, I'd be happy to hear their reasons. Our Dutch captain has run through and used up the book of superlatives. I think he richly deserves the recognition.
That's all for today, folks. Chelsea preview and team news will be headed your way tomorrow. I might be one of the few, but I wasn't all that impressed with their performance against Barcelona. Sure, they defended well, but I can see them getting a hammering at the Nou Camp if Barca really turn it on.
Thanks for reading, you beautiful bastards. Take a moment to comment and follow my Twitter account – @_ArmchairGooner