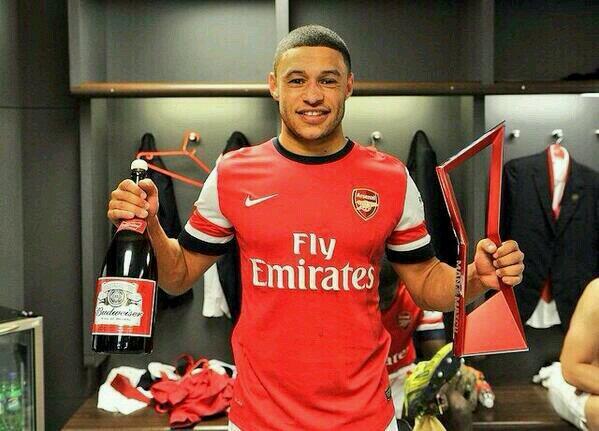 Morning, folks.
After such an enforced hiatus, it's pleasing to return to your fair screens with something pleasant to discuss. Yesterday's triumph certainly won't go down in the annals of history as Arsenal's crowning accomplishment, but given the manner in which things have fallen apart in recent weeks, I, quite frankly, couldn't care less.
And I celebrated, too. Those that have you believe it was "only Wigan" seem to have forgotten that football is all about joy. If you can't glean any joy from booking a place in a major cup final, then why bother at all? Yes – it might have been "only Wigan" but it certainly should be mentioned that "only Wigan" hadn't lost in the FA Cup for two years, and they knocked out Manchester City on their own turf to get to play us.  A lot of teams underestimated "only Wigan" and look where that got them. They gave us a tough game and I personally think they deserve a great deal of credit and praise for their recent exploits.
Semi finals are a tense and nervous affair. I struggle to recall a time we've successfully navigated one without any trouble. Form and standing go out of the window over the 90/120 minutes. We may have seen a tepid and uninspiring Arsenal performance on the day, but that performance got us where we needed to be.
Too much is analysed these days. If you allow yourself to be bombarded with the opinions of pundits and fans, you'd go quite mad within a short period of time. Everything is focused upon and the negative sells so it's invariably that which is covered the most. Certain members of our fan base seem at their happiest when things go awry, almost as if they yearn for a platform in which to spew vitriol more than the prospect of Arsenal's fortunes improving. I find it baffling, I really do.
Yaya Sanogo is a good example of what I mean. A young kid starting an game of enormous magnitude was slaughtered afterwards. Why? Because he isn't Thierry Henry? Because he didn't score a hat-trick? Perhaps he isn't ready to start important games for Arsenal, but it's not his fault he's out there. On the pitch, he tried his best and did offer a different kind of threat at times. He's still, to use the popular term, 'raw' and I'd agree that maybe he needs a little further development before featuring regularly, but to brand him as "f**king sh*t" and other such colourful conglomerations of language is downright idiotic.
Buy hey – I'm beginning to border on hypocrisy now. Moaning about moaning is no better than moaning itself in the first place, if you know what I mean. When you cast aside all the debates and all the unbridled fury, what matters most is that Arsenal will take to the field on May 17th to play the FA Cup Final and have an exceptional chance of winning it – according to fixed odds betting guide by topbettingreviews.com, anyway. We'll find out later today who are opponents are, but whether it be Sheffield United or Hull City bothers be not a jot.
For the rest of today I'm going to enjoy getting to a final and the nerves and excitement being there brings. It's not all doom and gloom just yet. My last mention of the day will go to Lukasz Fabianski. He's moving on from Arsenal in the summer to cement a place as No1 elsewhere and I wish him all the best. In recent seasons when called upon, he's played very well and deservedly takes the accolades from yesterday's penalty shoot out. Gone are the days of the cruel 'Flapianski' moniker. I hope he leaves Arsenal with a winners medal.
That's all for today, folks. With things still hectic and unpredictable in my personal life, I shan't say when I'll be back regularly, but I intend to do so as soon as possible. Until then, why not use the comments to discuss the game and share a few of your thoughts on how the events unfolded.
As always; thanks for reading, you beautiful bastards.