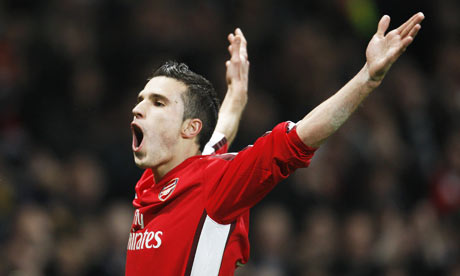 Morning folks.
As is customary, I'm writing last night for publication today. I ache. My god, do I ache. Paintball is fun, make no mistake; but it is a tiring pursuit, and one that I found, much to my chagrin, involves getting shot in the face quite regularly. At one point I was shot in the face, legs, and arse simultaneously. Of course, it wasn't all me getting shot. Oh no. During one game, my teammates and I cut one unfortunate soul to ribbons in a blaze of return fire. It was glorious – simulated violence and the administration of pain to a stranger at its finest.
Here's a photo – guess who's hair was too big for an ordinary helmet…
Anyway, enough of my blathering. Let's have a look at an interview recently given by one Robin van Pursey. He comes across as all lovely and sweet, but we know there's a unfathomably snide individual lurking benaeth. Here are some qutoes from an interview he gave about Arsene and Sir Alex:
"I am the only player who can judge what it's like working with Arsene and Sir Alex"
Errmm… Mikel Silvestre?
"I had a fantastic time with Arsene. I enjoyed training, playing, talking and all the other times I spent with him. I love it that I now experience the same with Sir Alex. But what I love about both managers is that they came to their clubs for a good cause. They both wanted to be at the club for a really long time."
What he really means is:
"I enjoyed my time under Arsene. But my inner child informed me I could be paid a stupendous amount to do the same elsewhere. All I needed to do was release a breathtakingly disrespectful statement about a club that stood by me through 6-and-a-half years of injury. I have to say nice things about my new manager, because he might throw a hairdryer at me, or force me to indulge in haggard, ageing prostitutes with that portly grotesque I play upfront with".
I know what you're thinking, folks; I should let it go. I should forget about it and move on. You're absolutely right, too. Trouble is, every time I see his smug face scoring in a United shirt, it makes my blood boil. Why did we let him go there? We had the power to say no. But, we didn't. Gazidis' eyes glazed over when he saw £24m on the table.
Moving on…
It was great to hear Jack Wilshere speaking after the win versus QPR. When I get a little down or dejected, I remember we have Jack; someone who can be as good a midfielder as anyone – I'm talking Xavi, Iniesta, Fabregas or Gerrard. When there are moments of despair,or pessimism, I think about the sight of Jack and Cazorla exchanging passes in our midfield, and I genuinely feel uplifted. Together, those two can be truly special.
Tomorrow night we have a trip to Reading in the Capital One Cup to look forward to, and I'll be posting a preview on the day. Until then, I thought I'd pose a question I left for my Facebook followers:
Finish 4th and tropyhless, or 5th with a cup; which would you prefer?
Let me know your thought in the comments.
Thanks for reading today, you scrumptious people.