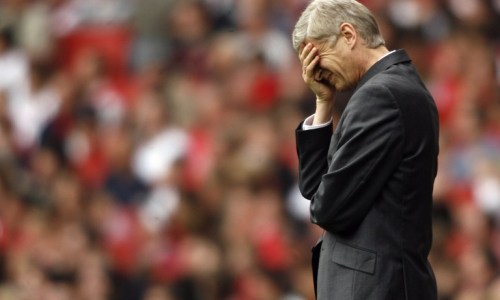 Morning, folks.
The plan throughout the summer has been to start blogging again when the new season starts. Transfer rumours and such things aren't the most scintillating of topics, so I decided to take an extended break from this here typing and blathering and come back refreshed, reinvigorated, reinvested and other words that begin with 're' that don't immediately spring to mind.
Over the off season, amidst all the tedium and withdrawal symptoms, genuine excitement has overwhelmed me for what could be. We've seen some good performances over the few friendlies we've played – especially at the Emirates Cup and, most notably, the victory over Chelsea in the Charity Shield. Bringing in an established, world-class goalkeeper in Petr Cech brought with it an almost palpable sense of calm when defending.
Everything looked awesome. Things appeared to be settling into place nicely. And then yesterday's shower of sh*t reminded us that Arsenal, somehow, will always find new and imaginative ways to be Arsenal. 
Don't get me wrong, folks. I'm hardly ripping into our title aspirations after one game as that would be an exercise in breathtaking stupidity. I'm just bitterly disappointed that we didn't turn up yesterday when things mattered.
Credit must be extended to West Ham. They came to The Emirates with a plan and executed it. Slaven Bilic set his players to defend as a unit and attack when the opportunity arose. On the day, and across the majority of the pitch, they were, to put it simply, the better team and rightfully left with all the points. There were no fortuitous breaks or refereeing indiscretions. We can have no complaints in that respect.
What irks me is that our players allowed it to happen.
Lethargy and complacency have long been familiar enemies. With all the positivity and horn-blowing coming from the press and pundits regarding our chances of mounting a title challenge, the game had and air of assumed inevitability about it. Everyone just seemed to assume we could brush West Ham aside and have a lovely day in the sunshine.
The players sauntered around the pitch without ever really showing the required urgency. In interviews leading up to the big kick off, the adopted mantra among the squad has been, "let's show it on the pitch" – a statement meant to display their knowledge that all the talk leading up to the game is nothing more than words. With that phrase echoing around the stadium and conference rooms, we proceeded to flush it down the nearest toilet the moment the ball was kicked off.
And that's what I find the most frustrating. At present, as I typing this I'm  feeling glum – I'd liken it to the kind of glumness you might feel waking up on Christmas morning as a child, darting downstairs to see what magical items Santa Claus has delivered only to discover all the presents have gone and a homeless man has taken a sh*t in your front room.
I'm certain that glumness will quickly subside. It is, after all, merely the start of what is a long, long season in which many things will happen. But at the moment, I feel bloody awful. We should have done better. I expected better and I'd be fairly certain I'm some distance from the only Arsenal fan to be encountering a similar sensation.
Worst of all, what occurred wasn't unfamiliar. We've all seen that kind of performance from Arsenal to such an extent an entire period of our history has been labelled the "banter era" my certain folk on Twitter. Even someone as calm and assured as Petr Cech was found haplessly flapping at a free kick for West Ham's opener.
I tweeted this at the time…
Petr Cech channeling the spirits of Almunia, Szczesny, Ospina, Shabaan, Wright and Mannone in one listless pounce towards nothing…

— James 'Raul' Stökes (@JamesRaulStokes) August 9, 2015
A bit harsh, but I was p*ssed off.
But hey…
These things happen. As much as I am currently bordering on setting fire to my penis just to take away the bad thoughts, I do consider myself a realist. As bad as we did perform, sometimes clouds do come with silver linings. No ground has been lost at such an early stage and others around us vying for the title are sure to suffer similarly bad days at the office. Perhaps such a bitter disappointment will act as a wake up call to all those players and they'll be hit with the realisation that anything other than a focused, enthusiastic performance will result in dropped points in a league this competitive.
I struggle to glean many positives from yesterday's fiasco, but I'm fully aware that calling for change and lambasting players is silly and helps nothing. I'm pretty much just p*ssed off, but retaining a sense of belief that nothing is lost at this stage and nothing has changed – we still have the potential and the players to challenge for more silverware.
I'm just p*ssed off.
Really p*ssed off.
In fact, I don't think I'll discuss things any longer. I'll direct those of you that actually remain readers of this blog towards the comments section where you can spew your delicious thoughts for all and sundry to see.
I'm still p*ssed off.
Right, time to have some tasty breakfast and attempt to un-p*ss off myself (Is that a word? Probably not… That p*sses me off, too…)
I'll be back soon. As always, thanks for reading, you beautiful bastards.