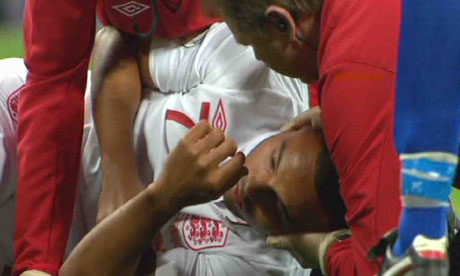 Afternoon folks.
That dreaded injury curse has once again struck. Such was my complete lack of interest, I only caught the occasional glimpse of England's game last night – I watched Jet Li in 'Unleashed' instead – so I've had to rustle around various sites for a bit of information on Arsenal's contingent.
The challenge on Theo from San Marino's keeper wasn't a pretty one, and our speedy winger/striker had to spend the night in hospital. Details on the severity of the damage are not yet forthcoming, but it looked quite nasty. Far be it for me to speculate or claim to have any medical knowledge; the possibility of him missing a fair few games looks high. I hope for him to make a speedy recovery. He may not be my favourite member of the squad, and, at times, he's so frustrating he makes me want to punch kittens in the face, but he has been showing signs or form and getting amongst the goals.
I'd far rather he be fit and available than not.
Staying on the subject of England, it was nice to see The Ox get a goal – his first at senior international level. For someone who we all expect great things from, his form this season has been patchy. Perhaps the euphoria of netting for his national team will enable him to push on and find his groove in an Arsenal shirt.
Other than those two points, my desire to watch any further elements of the game was similar to how I treat going to the lavatory in the middle of the night when it's cold – I'll only make the effort if it's absolutely necessary . In this particular case, it wasn't.
Lastly today, I thought I would send you in the direction of a blog post brought to my attention by previous interviewee, Jules Wheeler. By now, you've most probably heard all about the story of 'Duncan Jenkins' and Liverpool's director of communications, Jen Chang. It's absolutely astonishing stuff, so if it has passed you by, I strongly recommend you have a read of it  – the post is called "Such a little thing makes such a big difference".
That's all for today, folks.
The comments are below, you can use them to let me know your views on Theo's injury, The Ox's contribution last night, and your views on the Duncan Jenkins story.
Thanks for reading, you beautiful bastards. I shall return with more tomorrow.