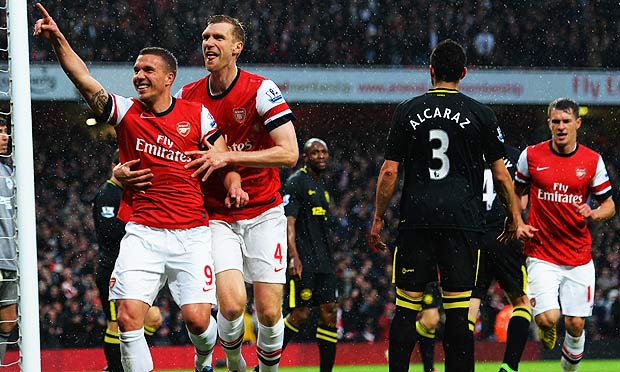 Morning folks.
It's been a funny old week, hasn't it. Managers have left on the back of a good run of success, players have revolted, relegated teams go down with an FA Cup victory, and 2013/2014 Premier League betting odds have fluctuated on a daily basis accordingly. It seems no one has the faintest idea what to expect from the beautiful game anymore.
And us Gooners are especially used to such unpredictability. Before kick-off, taking into account the importance of a win, I was a quivering, nervous wreck. Thoughts of terrible defensive blunders and soul-destroying late concessions swirled about my mind and refused to make way for pleasant thoughts.
When the team took to the field, however, all that changed. You could see they where fired up and knew exactly what they had to do. Our passing was crisp and accurate, runs had direction and purpose and even Tomas Rosicky was darting about making interceptions like a diminutive, caucasian Patrick Vieira.
Oddly enough, as soon as we took the lead thanks to one of Wigan's characteristic defensive lapses, the moments of concern came flooding back. There is something dangerously unsafe about Arsenal leading 1-0. The majority of the first half saw us dominate possession without creating a clear-cut opening.
And then first half stoppage time the inevitable happened. Mike Dean being Mike Dean saw fit to award a free kick for the most innocuous of challenges, and Shaun Malnoney duly dispatched the free kick into the net. I peppered the air with obscenities. You had to admire the quality of the goal, but the timing couldn't have been worse.
Wigan began the second half brightly, and were denied early on courtesy of a brilliant stop from Szczsney. His contribution to the cause since his return shouldn't go unmentioned. On several occasions he's produced vital stops at hugely important moments in games.
The real hero of the night was Santi Cazorla. As we pressed on for a win, he was involed in everything good about our approach play, and contributed directly to all 4 goals. In the eight minute spell where victory as achieved, the little Spanish magician was everywhere; probing, conniving and prompting attacks.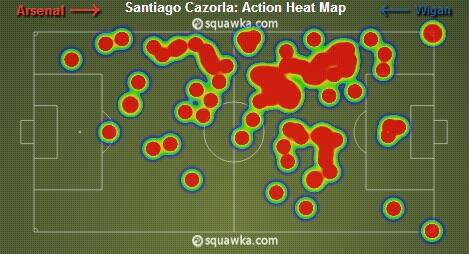 His cross for Theo's goal was inch perfect and quite brilliant, and once we took the lead again there was no coming back for Wigan. Having exerted so much to win the FA Cup on Saturday, that moment knocked the wind from their sails, and enabled Podolski and Ramsey to make the game safe, condemning our opponents to the dreaded drop.
It's a bit of a shame to see Wigan leave. Roberto Martinez sets his teams up intelligently and to play football the right way. Yet football is a cruel mistress, and all the pretty passing counts for nothing if the results don't come your way. Wigan simply haven't been good enough.
Speaking after the game, Arsene Wenger seemed to agree:
"You want to congratulate Wigan and you feel sorry for them, because with the quality of football they play it is sad that they go down.

"Wigan are a good footballing side with intelligent players and it is difficult to understand, but that is the harsh truth of the game."
So folks, we are half the way there. We have one victory, all we need is another at Newcastle on Sunday. It's a win that will be entirely necessary as I can only see Spurs beating a now-safe Sunderland. Scoring a few goals has helped our chances of aquiring 3rd – which we will get if Chelsea fail to beat Everton, and we win by a margin of 2 goals or more.
It all boils down to one period of 90 minutes against a team we should be able to beat. It's not going to be comfortable – it never is – but as long as we have our destiny firmly clasped between our hands we have the initiative going forward. A win is all we need. Let's head up north and get one. I'm confident we'll do exactly that, Arsenal betting reflects that our chances are certainly favourable. Until the nerves kick in again, that is…
That's all for today. The comments await your thoughts on the game – who was your MOTM? Are you confident of beating Newcastle? Let me know.
As always; thanks for reading, you beautiful bastards.