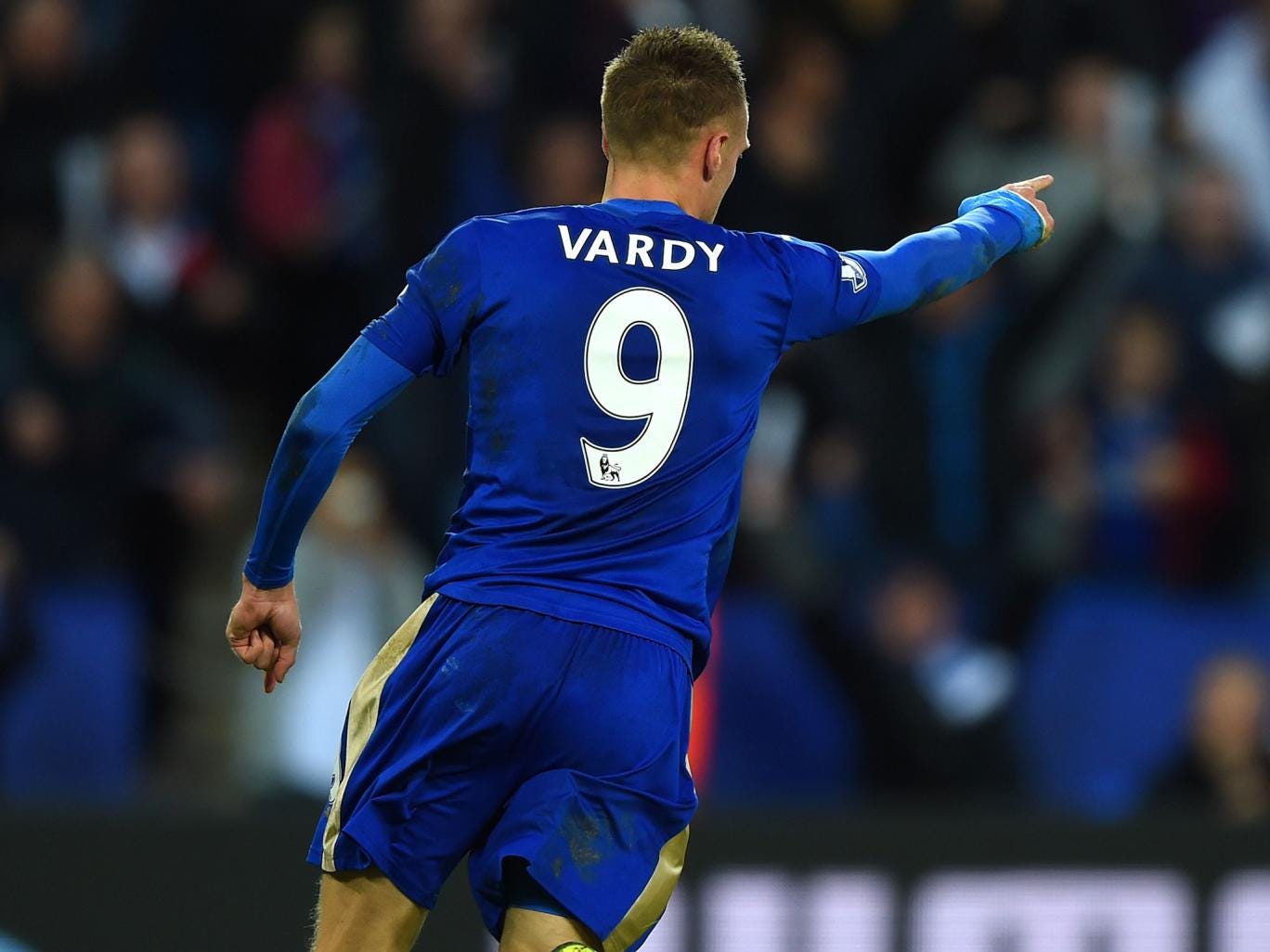 Morning, folks.
Yesterday, just as I was finishing work and about to drive home, I was contemplating what I'd blog about in the morning. At that point, there wasn't much of anything circling the news outlets and I was fully expecting to have to blather my way through 500 words.
In the 30 minutes it took me to drive home from work to my house all pretty Hell broke lose. Social media went into its customary meltdown of warring factions as the news of Arsenal's bid for Jamie Vardy broke and spread like the proverbial plague.  At first, I didn't quite know what to make of it. The idea of Vardy wearing the glorious red of Arsenal didn't appeal to me as I'm not really his biggest fan. He's a good player who's enjoyed an extremely purple patch the past season with Leicester, but is he truly the centre forward we're looking for?
I wasn't sure then. Having slept on it and allowed the concept to marinade, I'm still unsure now.
Perhaps it's the sheer surprise. Jamie Vardy has never struck me as an Arsene Wenger signing. At 29-years-old, he's comfortably past what would be considered a footballer's prime years – although, he doesn't have years of top flight football under his belt during that time. It's arguable his body hasn't suffered the trials and tribulations of someone accustomed to playing in the Premiership from an early age.
Having gotten into writing this, I've suddenly questioned the validity of it all. Doesn't it smack liberally of an elaborate hoax? So, with that in mind, I'll check some of the sources. Most on Twitter are spurious drivel merchants, but David Ornstein tends to be reputable. He's saying this:
Arsenal have triggered Jamie Vardy release clause & in talks with Leicester to sign the striker. Story broken by @StuartJamesGNM#AFC#LCFC

— David Ornstein (@bbcsport_david) June 3, 2016
That hardly clears everything up with question, but it gives proceedings distinctly less mendacity.
Right, where was I?
Vardy; the potential signing…
He's a good striker. This season, pace coupled with clinical finishing has seen him top the scoring charts. There's no disputing his form has been excellent. He's scored some sensational goals and he never allows defenders a moments peace. If you can put aside the fact he's a pointy-chinned racist goblin – I can't – there certainly is potential for him to succeed at Arsenal. Judged purely as a player, it is difficult to really find too many reasons for him to fail – the only one I can muster is whether or not last season was a flash in the pan. That's hardly concrete reason for dismissal.
But this isn't a potential incoming I can get excited about. Jamie Vardy has all the charm of a drunken Ibiza rep – the kind of person who uses phrases like, "havin' it large" or "lads on it" without a degree of irony. Perhaps it's unfair to judge a footballer player based on their personality. After all, Jack Wilshere has had his brushes with controversy, as have some of our established legends. What ought to be of highest concern is whether he can deliver on the pitch. If he wants to lap WKD from a startled hooker's midriff, then that's his concern.
Yet, I find myself making that judgement. I did the same during the Luis Suarez saga. Someone on Twitter posted – and I'm paraphrasing here – "I could just about get behind signing a short, angry racist tw*t when he was called Luis Suarez. I can't with Jamie Vardy". That's pretty much where I stand on the situation – apologies to whomever it was that tweeted that, but I've forgotten who it was and I can't be bothered to trawl through my feed to find out.
Those are my thoughts. My thoughts tend to change. I'm undecided at best, maybe leaning towards a "No!". As things stand, there's no evidence any of this is real, or whether or not Vardy himself is at all interested. After all, he's a title winner with Leicester and has Champions League football to experience with them. There's nothing other than speculation, and we all know how quickly that can veer towards something else.
For now, I shall leave you all. Tomorrow I shall return with more. In the meantime, why not use the comments section below to discuss your thoughts on the alleged transfer. Are you for or against? I'll look forward to reading  few when I get the chance.
As always; thanks for reading, you beautiful bastards.