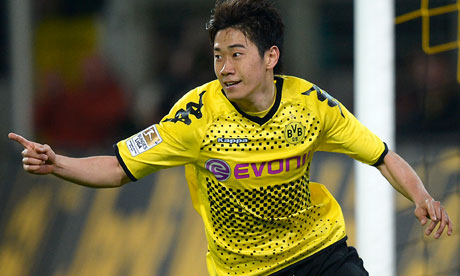 Morning, beautiful people.
Today, it's all about gossipy gossiping. There's an entire summer ahead of us, and all we'll have to replace the warm embrace of Premiership fixtures is the boney fingers and unwelcoming arms of transfer speculation. Whether it be the impending saga of Robin van Persie's contract, or the interminable stories that'll fly about like crazed geese; settle in folks, we are just at the beginning.
First up today is the rumoured attempt by Arsenal to hijack Man United's attempts to sign Dortmund's Shinji Kagawa. He's a bloody useful little player – quick feet and bags of invention. I highly doubt that this is anything more than a bit of news intended to ensure United act quickly in sealing the deal, so I won't be getting my hopes up. Nice idea, though. He's one of the types of player I'd like to see Arsenal go for.
Second of all today, is Samir Nasri. Ordinarily, I wouldn't waste my time dedicating any words on my blog to that irksome, money-grabbing little shite-bag, but he has crossed the line. If he had a shred of decency, he'd shut his mouth and enjoy flaunting around a trophy he contributed little or nothing toward. Instead, the horse-faced urchin had these words to say about Arsenal fans:
"People at Arsenal tried to make out that I came here for the money,  I hope they are watching me now collecting my Premier League winner's medal.

"I believe they have not won a trophy for many seasons now.

"If all that I was interested in was money, the easiest decision would have been to stay at Arsenal, picking up my money every week and walking into the team.

"There are many people doing this right now at Arsenal.

"I made the hard choice to come and fight for my place at a big club, where they never settle for second best, and I have proved it correct.

"I now hope the Arsenal fans can get on with their lives and forget me, they should celebrate their third-place achievement and I will focus on winning titles."
He's a sweetheart, isn't he? Full of wise words and humility… Samir, you get abuse from Arsenal fans because you are nothing more than a mercenary. Your hollow words that attempt to portray you otherwise are as transparent as glass. Have you asked yourself why Gooners don't boo Kolo Toure or Gael Clichy? It's simple; they contributed more than 3 months, and neither left with the attitude and continuing disrespect you have.
And that's all I'm prepared to say on the matter. As of now, Samir Nasri is just another idiot with a big mouth, and he'll be treated the way those folks ought be; with contempt, and ignored completely. And to think; when the chips were down at City, this is a guy who took to his Twitter account claiming he would "always be a gooner".
That's all for today. Thanks for reading, you beautiful bastards. Take a moment to comment and follow my Twitter account @_ArmchairGooner.
More tomorrow.