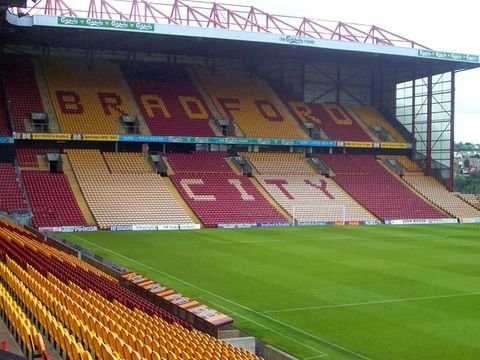 Morning folks.
There used to be a time when I wouldn't fear Arsenal playing anyone. The giants of Europe could be lining up in opposition, and I'd hardly bat an eyelid such was my confidence in the team. How times have changed. The current Arsenal team fills me with anxiety when facing potentially tricky away fixtures like today's.
Sitting an impressive 4th in the N-Power League Two, Bradford have home advantage. Having recently been expelled from the FA Cup, tonight will be their biggest game of the season; a money maker, and a shot at legend status for the players should they pull off a result. For Arsenal, it's a cold, frosty evening in an unwelcoming stadium against opponents we should dispatch with ease.
Recipe for disaster?
The team news is as you'd expect; after playing on Saturday, most of our first 11 will miss the game, and there will be opportunities for the fringe players/youngsters to impress. Giroud, Walcott, Santos and Koscielnty will all play no part due to injury.
The Capital One Cup represents our best chance of silverware. It certainly lacks the history and glory of other, more prestigious competitions, but at this point  I don't care for any of that. I'd love Arsenal to win something to get that 7-year monkey off our back. With that in mind, I hope the Boss fields as strong a team as possible, and the players adopt the same desire as us fans.
My guess at the team would be:
"We should win" – that's what I keep telling myself. If the players selected play to anything like their potential, then I don't see Bradford being able to offer much in the way of resistance. However, cup football regularly makes a mockery of expectation. With a vociferous home support, and the incentive of a Premiership scalp; supposed 'lesser' teams often rise to the occasion.
Arsenal will need to be unified, and ready to get their hands dirty. There will be long balls and quick, aggressive closing down to contend with. If our well-payed 'superstars' decide they don't fancy it, we could be in trouble.
Games like this worry me, the more prissy members of our team worry me, and the mere thought of Squillaci anywhere near the team sheet worries me. Hopefully, as is often the case, worrying is just a reaction to what's happened in the past, and our future will pan out differently.
Not entirely with confidence, I'll predict a 2-0 win for Arsenal.
That's all for today folks. Do any of you share my pessimism and sense of dread? Are some of you confident of a stroll to victory? What team would you select? Let me know in the comments.
If you're willing to stake huge amounts of your hard-earned cash on the outcome, you can head over to Bet Victor, who offer a free £25 bet for new members. You can register for that offer here.
Finally today, there's a very interesting piece on Arsenal Mania about a Diamond Day meeting with Arsene Wenger. It's certainly worth a few minutes of your day. Check it out.