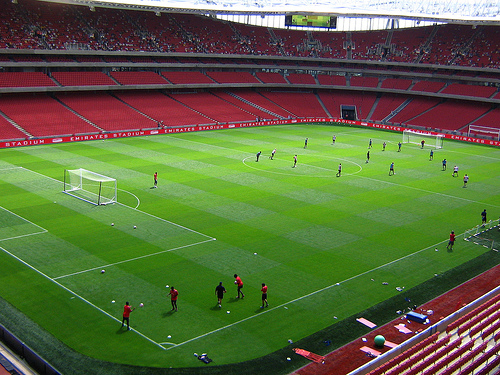 Morning folks.
There's been a hefty ol' amount of dejection in the air recently. With Arsenal showing the kind of form you'd associate with mid-table dross before a title challenging side, optimism and hope are in short supply amongst the Gooner faithful. I can't say I blame them, either. It's one thing to be morose for no apparent reason, but in this case, a lot of what's been said is entirely justified. Arsenal simply haven't been good enough in recent weeks.
Today, we have a perfect opportunity to get a result and give ourselves a platform to build from. Fulham are tricky opponents, and shouldn't be viewed as anything else – they'll punish us if we take them too lightly. That said, this is exactly the type of game we should look to win comfortably and with minimal fuss. I'd like to think that's what will happen, but as we all know only too well; Arsenal have a habit of making things difficult and complicated for themselves.
The team news isn't the best. Wilshere misses the game through suspension, and Gervinho, Diaby, Rosicky, Ramsey, Gibbs and Szczsney all continue to play no part through injury – although, Rosicky and Szczsney are said to be very close to a return. No news on Diaby.
I expect Thomas Vermaelen to continue at left-back in place of Santos, and our line up to be similar to the one that started midweek in Germany. With Jack missing out, Arsene may choose to push Arteta a little further upfield, and play Coquelin in the holding role in front of the back four:
We should win today. However, predicting what Arsenal will do has proven to be futile. If we play well, concentrate, and impose ourselves on the game, I've every confidence we'll win it without hassle. If we show the kind of dedication and desire on display at Old Trafford, things could get nasty at the Emirates. With Spurs to follow next week, we really need to go into that game with a victory under our belt.
I'll boldly predict a 3-1 victory, with Arsenal doing what they always do; going a goal down first.
That's all for today, folks. Let me know what ever might be rattling around your brain in the comments section. Do you agree with the selction? Would you use today to play Theo as a striker? I look forward to hearing what you think.
Thanks for reading, you beautiful bastards.
If you're interested in placing some money on the line and testing your powers of prediction, you can check all the latest Arsenal odds over at Bet Victor.