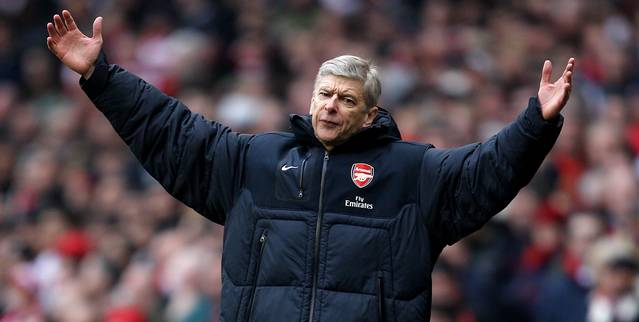 It's not often I'm near my computer when the world of Twitter has a meltdown. Today appears the exception to that rule. Nor is it a regular occurrence I allow myself to become embroiled in said meltdowns. Ordinarily, I'm far too stupid to care.
Today, however, I'm at a loss to understand just how something that, to me at the very least, seems so innocuous and inane can spark folk into slobbering rage.
If you've not already heard, this quote from Arsene was released regarding the signing of Danny Welbeck being completed whilst he was in Rome:
"If I had stayed in my home, he would not be here – that's the truth"
That tiny statement sent Twitter into the kind of eruption that you'd expected to be accompanied by Tommy-Lee Jones scampering around Los Angeles rescuing hapless pedestrians. Conspiracy theorists licked their lips and hit-hungry merchants of dross leapt to write hate-filled posts smirking gormlessly in the knowledge an abundance of clicks would head their way.
Even in that form, it strikes me as nothing other than a reason for Arsene's presence in Rome being beneficial to the signing of Welbeck. Others, very strongly, assumed the manager was hinting at his displeasure for a signing those conspiracy theorists implied was made behind his back – a fu*king stupid thing to say when you take into account how often they critique his involvement in absolutely everything, only to believe he'd have nothing to do with a transfer because it suits their agenda.
Low and behold, moments later the actual quote in it's entirety, courtesy of The Telegraph appeared:
"If I had not travelled that day, Welbeck would not be here. The coincidence made it. If I stayed in my home, Welbeck would not be here. I will tell you that story one day. That is the truth. We are in 2014, you can always be in touch."
I'm no 'Arsene Apologist', nor am I any of those irritating initialisms/acronyms you see labelled onto just about everyone. Our manager makes mistakes just like everybody else. What I find immeasurably frustrating is the speed in which something so innocuous is doctored to suit a narrative that engenders hatred and petulance.
It's only done to attract hits. No other reason. Anyone these days can start a website and plaster speculative opprobrium across cyberspace to attract attention. All you need is the will to see the bad in absolutely everything. It's ridiculously simple. Here, I'll show you:
Let's imagine Arsene says this in a press conference:
It was a sunny day when we signed Danny Welbeck. I like him as a player, he can make intelligent runs and he likes to shoot at goal. I think he will do well at Arsenal, I'd hate to see a player we've invested money in fail.
Now, let's imagine we're a journalist working at the Daily Mail. In order to get into character, I've just sh*t myself, made some racist comments and bashed my head against the desk until I've got a terrible concussion. All I need to do is take a few key words from that quote and re-arrange them into something that'll attract attention – not forgetting to capitalise the really important words:
Arsenal manager Arsene Wenger HATES Danny Welbeck and threatens to SHOOT him into the SUN if the investment made by his club FAILS.
See how simple that is? 100k page hits. Guaranteed. Forget any iota of fact, that doesn't matter.
The truth is folks, you have to fish out the good these days. As Arsenal fans, we're lucky to have people like Andrew at Arseblog who is an established figure and doesn't need to post unbridled sh*t to attract readers. The trouble is figures like that are few and far between. They are out there, folks. Take a moment to look and find them. They'll serve you so much better than the rest.
I'm off to have some lunch and enjoy the sunshine. Hope you enjoyed today's little bonus post. I'll be back tomorrow – thanks for reading again, you beautiful bastards.