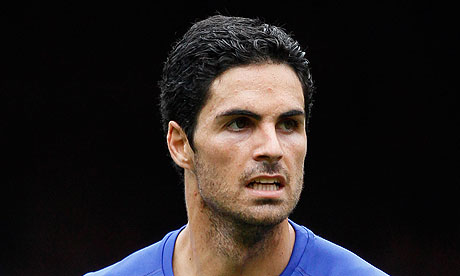 Morning all.
As you may already know, it is customary for me to write posts at night and schedule them for the following morning. Whilst typing away in the small hours, my mind does tend to wander. Currently, I'm pondering Mikel Arteta's grooming regime. How does his hair remain so perfect? Wether it be rain, or a force-9 gale; never is a single strand misplaced. Does he have a dedicated team that tend to it?  What products does he use? Does a man of his wealth import exotic treatments from across the globe?
I have so many questions. I could go on, but I shall spare you.
I'm a huge fan of Mikel. His signing has been inspired, and he's right up there with the names you'd have first on any list of starters. Since Alex Song has left, we've looked a far better team when anchored by a player who understands his role in the team, and plays for the others around him before he does himself. I really can't express just how impressed with him I have been.
He also seems to be thriving on the responsibility that comes with being an experienced member of the squad. Talking to Arsenal Player, he said:
"On the pitch and away from it I have been trying to behave the way I think we should, because I think we have a big responsibility [as footballers],"

"Not only for ourselves but for what we represent to other people. We are in a very lucky position and we have to take advantage of that and use it in the right way. Sometimes we make too many mistakes!"

"I am still 30, and I'm used to playing with guys who are 34, 35 and 36, but at Arsenal when you get to that age you are one of the oldest, if not the oldest!"

"It's a bit funny, but you know inside yourself that you have that responsibility and there are kids who are 17 and 18 and they are looking to you."
When you consider the image set by certain feculent scumbags who play for Chelsea, it is refreshing to hear a model professional like Arteta speak of the responsibility the players have. Better still, it's good to have someone as thoroughly decent as him in our ranks. I wouldn't trade him for anyone.
Elsewhere in news, Laurent Koscielny's injury appears to have been one big fuss over nothing. Not only is it minor, but he's expected to turn out for France today – or is it Saturday? I'm never sure when all the international's start. Good news he's fit, as I'm sure you'll all agree.
Lastly today, I thought I'd mention blog comments. Yesterday I had to delete around 30 that were from disgruntled readers – most of whom were intent on calling me a nasty word beginning with 'C'. I'm as open to abuse as anyone who puts their thoughts on the internet, so you'll hear no complaints. But come on; can't you think of something a little better than that? I'll happily authorise good insults. If it helps, you can always mention my ridiculous haircut, or my many grammatical blunders.
Most of all, don't always take everything I say seriously – I rarely am. And please don't take offence when I call you "beautiful bastards" – that's only ever meant as a term of endearment. Without you, the delicious reader, I'd just be an idiot talking to himself in a corner of the internet. I appreciate every one of you – even those of you that think I'm a c**t…
Now that's said, I shall leave you for the day. I'm off work and feeling chipper now my man-flu has passed. I shall return tomorrow with more.
Thanks for reading, you beautiful bastards.