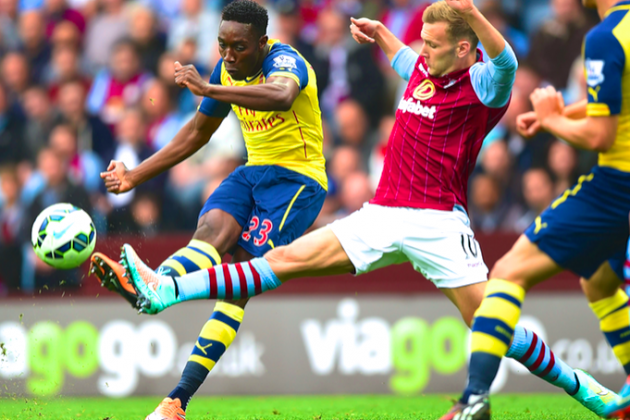 Morning, folks.
I do love the smell of match day in the morning. Or is that napalm? Either way, it's a wondrous, enveloping scent that fills me and my nostrils with a sense of glee. Robert Duvall is so cool…
Aston Villa are in town and on face value there shouldn't be anything other than an Arsenal victory today as, to be quite frank, they're utter sh*t at present. You need only look at their recent form; they've not won in the last 6 games and registered a paltry one goal in the process.
So on the face value I mentioned, we should win. Then you add Anthony Taylor into the equation and the potential for just about anything arises. In case you're unfamiliar, Anthony Taylor is the official responsible for last season's horror show against Villa at the Emirates in which his bizarre officiating resulted in a 3-1 defeat. I don't often criticise referees because it smacks of excuse making. Often officials have bad days but that really shouldn't take away from the team's failings, or at least be used to disguise them. However, Taylor's performance that day was so spectacularly f*cking woeful it deserves a mention.
He could send off Mesut Ozil for smiling today and I wouldn't be in the least bit surprised. If he scythed down Laurent Koscielny in our penalty area and awarded Villa a penalty, following that decision with celebratory groin thrusting toward Arsene Wenger, I'd not bat an eyelid.
He was that sh*t.
But, we can't really worry about him. We have to worry about ourselves and what is of paramount importance is another good display to build on the victory at Manchester City. The team news notably suggests report are true and Alexis Sanchez will sit this one out in a precautionary measure to protect his injured groin.
New signing Gabriel is in the squad but unlikely to start the game. Wilshere, Arteta, Debuchy, Welbeck and Diaby are still sitting things out. David Ospina is likely to retain his place in goal.
My guess at the team is:

With an advanced midfield 3 of Ozil, Cazorla and Chamberlain behind Giroud, I don't expect any to hold a fixed position throughout the 90 minutes, instead interchanging and popping up in different areas. Tomas Rosicky's recent excellent displays arguably stake a claim for his selection, but I'm not sure he'll be risked having started last week at Brighton. Theo seems to be lacking sharpness so will probably start on the bench.
So, prediction time. I'll go for a decent 3-0 win.
I'm off to work now where I'll suffer the misfortune of not being able to watch the game. I'll have to hope the combined forces of BBC 5Live and Twitter can keep me up to date with proceedings. If you're headed to the stadium, keep an eye out for podcast friends of mine Jokman and Michael Greene – they shouldn't be too difficult to spot; Jok will be the one snarling protectively at anyone approaching his food outside Piebury Corner whilst Michael waits for the opportune moment to leave him.
Be sure to tell them I said "hello".
That's all for today folks. I'll return tomorrow with a review of the game and a few other bits and bobs. The comments below are available for you to give me your thoughts on the game and your predictions. Don't be shy.
As always; thanks for reading, you beautiful bastards.
Follow me on Twitter: @JamesRaulStokes