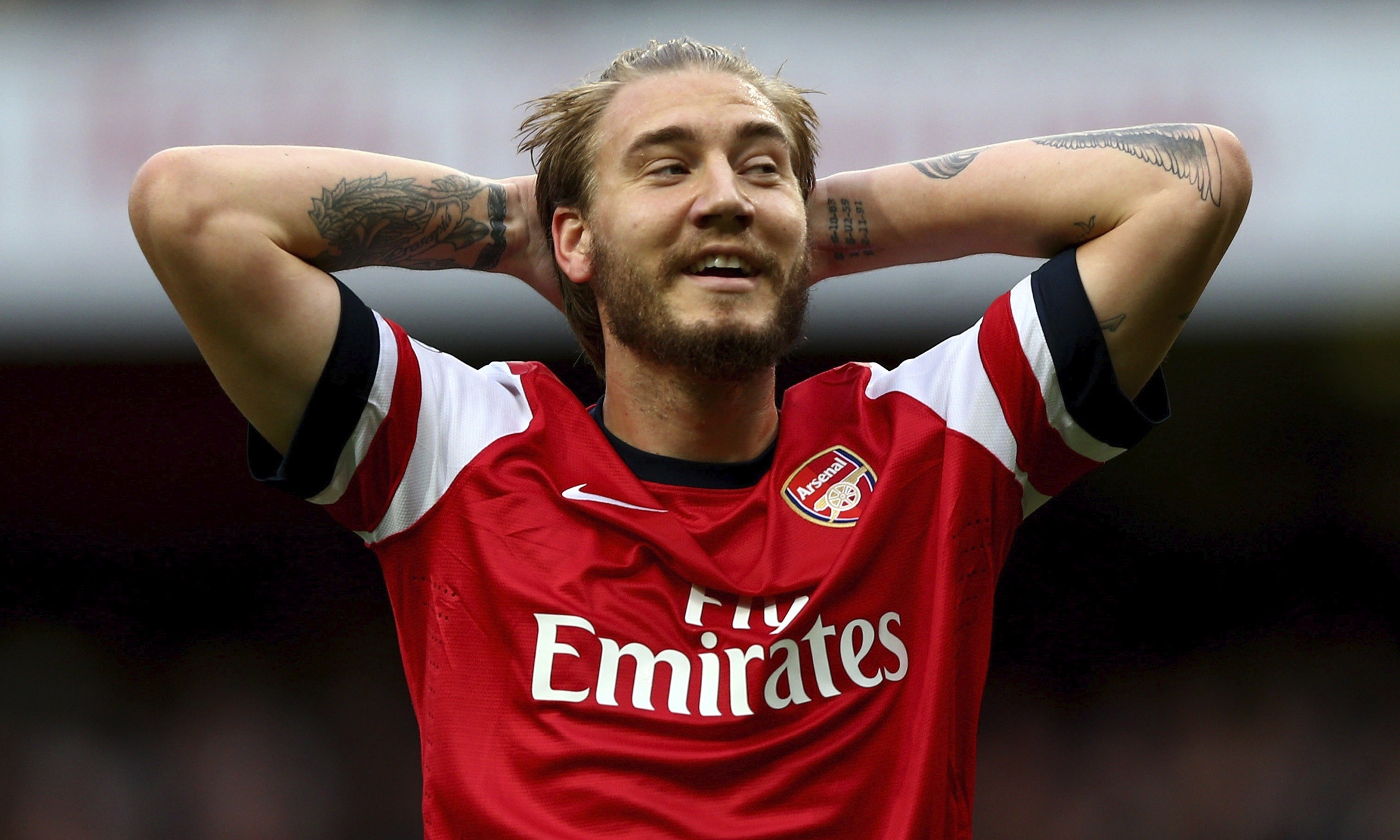 Morning, folks.
Some victories are obtained through dazzling approach play, synergy and breathtaking efficiency. Others, not so much. Yesterday's very welcome triumph fell firmly into the latter of those categories. Arsenal dominated the game in every respect, yet couldn't find a way through. It certainly looked like one of those days were nothing was going to happen.
Starting Podolski up front is something many have clamoured for. I consider the affable German to be the best finisher at the club –  he has a left foot like a traction engine. However, all the times I've seen him start centrally he hasn't looked anywhere near as much of a threat as he does when cutting in from the left. Giroud's absence was notable yesterday, as was his ability to hold up the ball and bring others into attacks.
Thank god for Nicklas Bendtner. Those of you who follow me on Twitter will already know what happened yesterday when I decided to doubt the man and make a bloody stupid bet. Considering consequences before tweeting isn't exactly one of my strongest points. It all started with this:
If Bendtner scores the winner, I will cover myself in jam and tweet the results. You can hold me to that.

— James 'Raul' Stökes (@_ArmchairGooner) January 1, 2014
Very soon things had gotten a little out of control. Sure enough, Nicklas Bendtner rose to the occasion and thumped the ball into the net just when we were starting to think we'd never score. If you're unfortunate enough to know me, you can testify to me being a man of my word. I didn't especially want to smear myself lavishly with a fruity preserve, and I had asumed I was pretty safe from doing so. Alas, I was not. So:
Dear @101greatgoals Nicklas Bendtner scored, so here is me covered in jam. Please RT pic.twitter.com/nTBKtDSlRY

— James 'Raul' Stökes (@_ArmchairGooner) January 1, 2014
My exploits even made it onto The Daily Mirror's website.
Apologies if you're eating your breakfast and looking at that picture of me. I look psychotic. I look like I've just returned from an evening's casual murdering and I'm very pleased with my exploits. I don't usually smile in such a sinister manner, but the jam applied to my face had gone all sticky and I could move how I'm accustomed. Also, it was a horrible b*tch to get all that damn jam out of the many areas it had entered. I believe there's still some remnants in my belly button.
Aside from having to do that, I was pleased for Bendtner. He may not have covered himself in glory recently or enamoured himself to many, but as long as he wears an Arsenal shirt I'll support his efforts on the pitch 100% regardless of what I might think of his personality. He instantly gave us a greater threat when he came on yesterday, and credit his positional play that enabled him to be in the right place to put the ball over the line. The biggest shame is he injured himself in the process and is looking at a good few weeks on the sidelines.
In a performance of few standouts, Jack Wilshere's display was head and shoulders above the rest. There have been several patches during the season where Jack has flattered to deceive and struggled to impose himself on games. We know he has all the talent in the world. At certain points, things simply have gone his way and he's attracted his share of criticism – some warranted, some not so much.
Yesterday he was showing signs of how good he is capable of being; strong, imperious and constantly moving forward with the ball attempting make things happen. Jack was at the centre of our second half push for a goal and most of the good things we managed to do. His pass that set Walcott clear for the second goal was quite beautiful.
Winning ugly seems to be something of an Arsenal 'thing' at the moment. Like the rest of you, I'd far rather we comfortably dispatched teams and our days watching the games were peaceful and without stress.  That said, I couldn't care less how we get 3 points as long as we get them. Cardiff did well to stifle us and block our creativity, but the score remaining goalless for such a long period owed as much to our lacklustre showing.
I take heart from that. As our displays have slipped in quality, the results have continued to come. That is most certainly a very good sign. As the remainder of the season progresses, I'm sure we will start to find good form and when that happens we will find things become very interesting indeed. As long as we can keep winning ugly in the meantime, we'll be right up there when the trophies are being handed out.
That's all for today, folks. The comments await your thoughts below. Answer a few of the day's questions; with Bendtner injured, do you think Arsene's hand will be forced into the transfer market? Are you pleased we continue to win regardless of form, or do you fear our luck might run out? Let me know your thoughts.
As always; thanks for reading, you beautiful bastards.