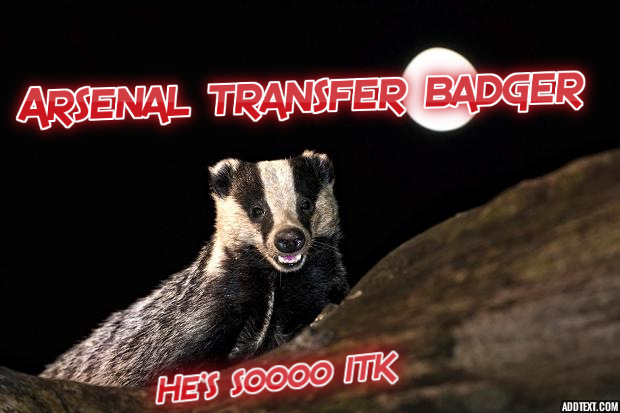 Good morning, Earth creatures.
Kenneth here.
*snorts*
This week I have been on tour with the team in Asia. To ensure there's plenty of that delicious transfer gossip we all crave, I infiltrated the club's officially chartered plane before taking off, cunningly disguising myself as Per Mertsesacker's bag of reserve sports socks.
It was an arduous journey across land and sea, cooped up in a bag with only a copy of Steel Magnolias and my portable DVD player for company. Now that the team are in the country, my plans to accrue transfer gossip are in full effect, and there's plenty for me to divulge.
*snorty snorting of all snorts*
Firstly, I shall break the primary rule of ITK Club, and share with you one of my sources. Mrs Kensington has long been Arsenal's tea lady. It is with a smile and unwelcome sexual innuendo she serves  the players warm beverages and crunchy biscuits. The old bird is also an avid listener, and takes notes when popping town a tray of Rich Tea in Arsene's office. You want proof of our continuing relationship? How about a photo of me and Mrs K during a recent sex-filled weekend at a luxury spa:
Whilst in Asia, we have become further entrenched in our affair, and work together to coax information from players – Bacary Sagna runs his mouth off until sundown if you ply him with enough Chocolate Digestives.  He let it slip that there could be a bid on the table for Brazilian attacking midfielder, Bernard, and a medical forthcoming as early as Friday. In light of our breakthrough, Arsene has moved quickly to deny reports, and banished Bac to his quarters without supper.
*snuffles and snuffles*
Unperturbed, we proceeded with our quest for knowledge. By now, you've all heard the Luis Suarez rumours. I personally can't abide the toothy bigot, but he is a sensational talent. A bid in excess of £40m will be lodged with Liverpool any day soon. However, don't write off Gonzalo Higuain just yet. Having threatened Jack Wilshere with a lethally sharpened Fig Roll, he confessed that Higuain (or HIG-AY-EEEEN) is stalling negotiations with Napoli purposefully to allow Arsenal the opportunity to make another bid.
Laurent Koscielny was our next port of call, and a disastrous choice it proved to be. It turns out our French defender knows little of transfer rumours, but is quite insatiable around the fairer sex. He provocatively lunged his genitals toward the fair Mrs Kensington one time too many for my liking, and action was required to defend her honour. His ankle injury was far from an incident on the training ground…
*snorts, snuffles, snorts, snorts and snuffles*
Putting the harrowing events of Koscielny behind us, the next day we cornered young Gedion Zelalem with angry growls and a scolding tea pot. The German teenager is a placid and gentle young man, and quickly broke. He told us that all this talk of Cesc Fabregas signing with David Moyes at Man United is poppycock, and that Cesc himself has assured The Boss that it won't happen. Arsenal may indulge themselves in the luxury of the buy-back clause agreed with Barcelona when he moved there.
At this point, I realised security had been called, and opted to beat a hasty retreat. My speedy fleeing was captured by the security camera's at Grampus Eight, leaving me unable to watch Arsenal's 3-1 triumph there. Luckily, the opportunity the view the highlights has presented itself, and Giroud's goal and overall performance was again noticeably impressive.
On that note, it is time for me to leave you. Mrs Kensington and I are to meet for some sushi later, and perhaps a game of Pokemon. All that remains is for me to point you toward to comments and hope you will contribute something towards James' blog. He always appreciates hearing your thoughts.