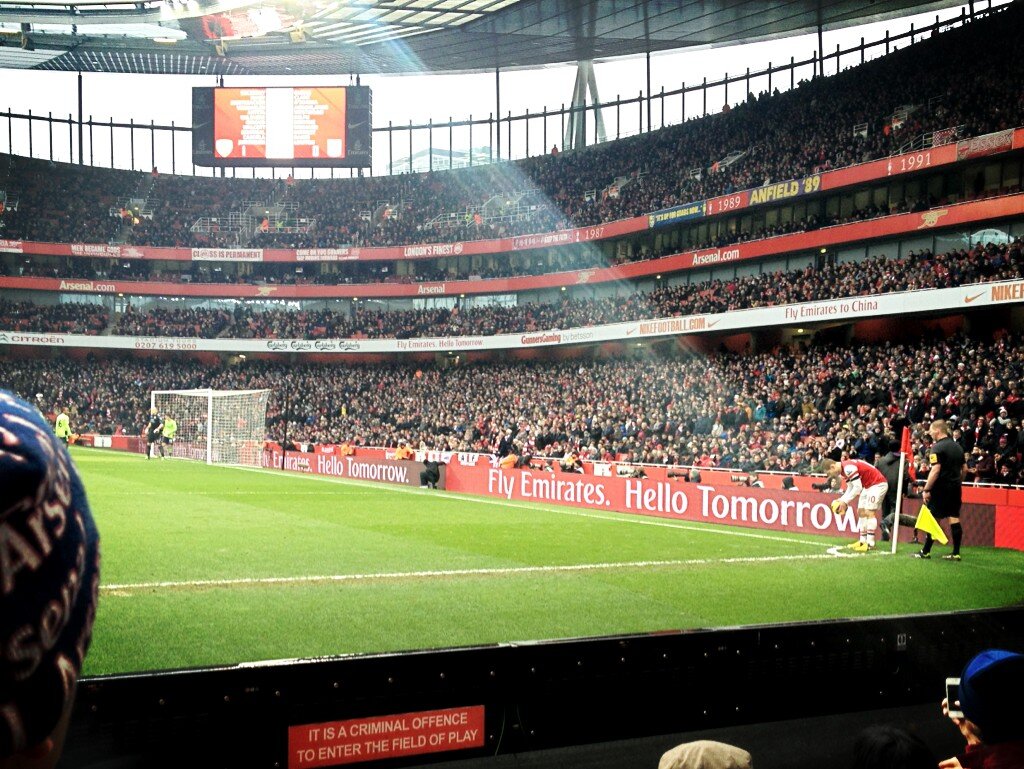 Morning, folks.
Ahhhhhhh, and relax.
There's nothing quite like Arsenal's ability to turn the relatively simplistic into an afternoon of fingernail-gnawing terror. Villa, to their credit, did come and at least attempt to make a game of it, but a narrow 2-1 victory should really have been achieved with little or no fuss.
When Santi Cazorla popped in our opener on 6 minutes, I foolishly thought we'd be in for one of those games where we pulverise our opponents and register a large goals tally. Unlike those of you fortunate to have jobs that don't require working ridiculous hours, I was paying no attention to my work in the kitchen, and instead permanently attached to my phone keeping up with the game.
Through the various mediums utilised, I thought things appeared to be comfortable for the Arsenal. Having watched the game back in the wee hours of Sunday morning – when I'm writing this – I realise we made fairly hard work of a team we should really be giving a good hiding.
Of course, that matters not a jot. When all the statistics and reports are long forgotten, the history books will simply inform that Arsenal won by 2 goals to Aston Villa's 1. After a week as soul destroying as that which has haunted us, the victory was all important, and the manner it was accomplished  merely a secondary point.
In patches I thought we played well, and Nacho Monreal especially caught my eye. The Spaniard has only 3 Premiership games under his belt in an unfamiliar team, yet he looks assured and rapidly growing into his role. I like him – he's effective both defensively and offensively, and he's only going to get better once fully adjusted to the rigours of English football.
There were downsides. Abou Diaby managed to last only 60 minutes before substituted with yet another injury. You have to feel for the guy. There's little doubting his talent, but I fear there may come a point when the club just can't afford to put any more faith in him. Underneath all the aches and pains lurks a truly excellent footballer. However, time is no longer on Diaby's side, and the summer could very well see the club say, "Abou, thanks for kicking John Terry in the face, but we have to let you go".
Elsewhere. players I expect more from had a bit of an off day. Big Olivier Giroud showed occasional glimpses of the profligacy that plagued the start of his Arsenal career, and once again Theo Walcott was a special kind of fucking useless. Don't get me wrong here, folks; I'm not one of these naysayers that enjoys trashing Walcott because it's sometimes the popular thing to do. Given his wages, and his contract saga, I think we are entitled to expect better from him, and that's something we've only seen briefly since he did put pen to paper.
The hero of the day, and the match winner was, as I'm sure you'd all agree, Santi Cazorla. Many people criticise Arsene's transfers, but the brilliance of our diminutive Spanish trickster shows that when he gets it right, he's capable of some truly magical deals. At £12m, someone as packed with talent as Cazorla is fantastic business any way you look at it. We are certainly very luck to have him, and one of the undoubted highs of the seaon is watching him and Wilshere combine in midfield.
All in all, we go into next weeks enormous game at Tottenham's dungeon with a win and something to aim for. Victory in that game will really put us in a good position for obtaining 4th. Let's hope we can build on our good points, and learn from the bad.
Thanks for reading today, you beautiful bastards. The comments await. Use them, or forever regret missing out on your opportunity to be heard. I always enjoy reading them.