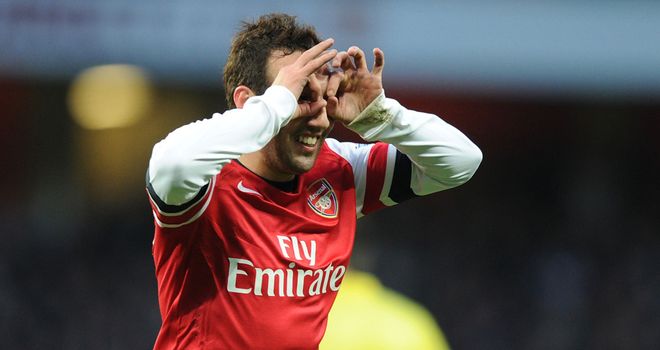 Morning, folks.
This isn't going to be a particularly easy review for me to write. Ordinarily, I like to immerse myself in every aspect of the game – often watching again after the first live viewing. Today that's going to be a little tricky. Having spent the vast majority of yesterday slaving over a hot stove, little or no time has been afforded to watch the 2-0 win over Fulham.
Since arriving home last night at 11.30pm, brief highlights scattered around the internet are the most I've been able to get my grubby paws on. From what I can muster, the performance was some distance from vintage, but the result was exactly what we wanted. Santi Cazorla appears to have rediscovered his shooting boots with a fine brace, and other than that there isn't a whole lot to rave about.
There are a couple of talking points I've taken from gauging reaction. They surround the performances of Mesut Ozil and Olivier Giroud. The former has been accused of lacking form and wandering around the Emirates turf looking slightly morse. The latter, well… he seems to be singled out for abuse regardless of what he does. These days, Arsenal fans do love to have a player they can really get annoyed with. Last year it was Aaron Ramsey, this year it's that handsome French bastard – incidentally, what the f**k was he doing when Cazorla scored?
The complaints surrounding Ozil's lack of form I can understand. We all know how much talent he has, and how much of an impact he is capable of exerting on games. Thus far, he has shown only brief glimpses of his undoubted brilliance. Yet, this doesn't particularly worry me. In a society that is as hungry for results as ours currently is, any player coming into the team with an enormous price tag hanging over his head was always going to be burdened with expectation – perhaps double given Arsenal's impecuniousness up until that point.
However, I always use the examples of Pires, Bergkamp and Henry. All 3 players took their time to get going in an Arsenal shirt, but when they did… Well, as they say, the rest is history. All 3 are rightly revered as legends. Mesut Ozil has the potential to be in that bracket. His start might be considered inauspicious by some, but the best is to come. We just have to be patient with him. Also, when you consider he has 5 goals, 9 assists and an 87% pass completion rate in his first half-season of English football, you realise it's not all bad.
Giroud, on the other hand, needs some help in my opinion. His approach play and contribution to the team are often overlooked in favour of viewing a supposed lack of goals. Yes, he isn't banging them in at the same rate as Suarez, but that guy's from another planet entirely – a buck-toothed, slightly racist one that does produce bloody good footballers. Bringing in someone to share the responsibility up front would be a benefit both with offering a different option to Giroud, and giving the big Frenchman a little competition to keep him on his toes. With Theo missing the remainder of the season, it's not unfair to suggest we could use another face to get amongst the goals. Podolski certainly has the finishing ability to do so, but I've often said I feel he offers more threat from the left.
So, folks, I shall end today's entry here. A decent enough win keeps us heading in the right direction. What are your thoughts on the game and the criticism of Ozil and Giroud? Do you think it's fair to suggest both should be offering us a little more? Let me know in the comments below? I shall return tomorrow with more.
As always: thanks for reading, you beautiful bastards.