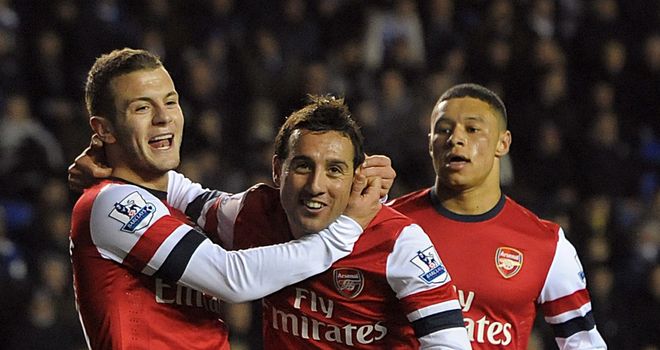 Morning folks.
Quick posts today, as I've a busy, busy day ahead of myself.
Victory, sweet victory. Exactly what the doctor ordered. As you'd expect, no Arsenal performance is complete without a couple of glaring defensive blunders, but today those will go without any further mention.
Winning was the important thing.
Santi Cazorla was magnificent. He bagged 3 good goals, an assist for Theo, and his general involvement and distribution was exemplary. On his day, when he really clicks, the diminutive Spaniard rightfully can be classed amongst the very best at what he does. Santi may have been a little off the boil in previous matches, but tonight he was truly superb.
Elsewhere on the pitch, Wilshere had a solid evening, Podolski showed a bit more verve and enthusiasm, and Theo's inclusion in the striker's role showed that when playing against opponents happy to make a game of it, he creates space for the midfield and his runs are a constant threat. I still would consider Giroud's presence and ability in the air a better option when faced with a team happy to "park the bus", but it is good to see Walcott getting a chance to show what he can do in the position he claims is his best.
Wether or not he'll get many more opportunities in an Arsenal shirt remains to be seen – I think it's increasingly doubtful.
On the whole, after such a terrible few days for the Club, we won comfortably and now sit 5th in the table. By no means are all our problems solved, but there is reason to be cheerful. That'll do me just fine. In a season as topsey-turvey as this, taking each game at a time is the only way I can keep my sanity intact.
That's all for today, folks.
Leave me a comment with your views on the result, and thanks for reading, you beautiful bastards.