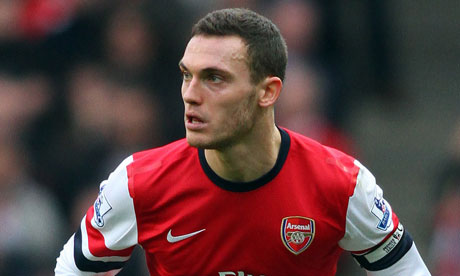 Morning, all.
I've just completed a 16 hour shift at work. As my fingers dance across the keyboard and I gaze into the screen, delirium overwhelms me. I'm tired, boys 'n' girls, and when in such a state I tend to waffle, writing any old spew without thought or care for consequence.
Given those facts have been offered, I might humbly request your forgive what follows, it's meandering nature and probable lack of anything cogent. As a matter of fact, perhaps you ought rejoice in my heroism, for I am putting mind and body on the line to produce this post for you.
*cue rapturous fanfare and ticker-tape"
Fu*k off, James…
News, now that's something I'm sure you do want. Most of that, as far as my weak attempt at a search has produced, centres around the impending departure of Thomas Vermaelen…
I've just changed into my bedtime garments halfway through this and discovered a hefty lump of peculiar fluff in my belly button that doesn't match the colour of the t-shirt I've been wearing all day. Bizarre. Where does it come from? Is it always there and only seeps to the surface on the odd occasion, or does a mysterious, invisible entity place it upon my glorious abdomen once my attention is elsewhere? Mysterious…
Sorry.
Right, Vermaelen.
Our Club captain certainly appears to be heading swiftly out the door toward a new life in Barcelona, with David Ornstein at the BBC reporting we've accepted a £15m bid from our Catalan friends – good money for a 28-year-old surplus to requirements. Had Vermaelen been a first team regular and an integral cog in the Arsenal machine, I'd be upset. After all, on his day he's still a fine defender, even if he is no stranger to the realms of calamitous blunder. However, past seasons have seen him slip down the pecking order having rightly been usurped by Mertesacker and Koscielny.
For all parties concerned, his departure is a good thing, but it does leave us light on numbers in an area we're hardly rich with options at present. Arsene Wenger has stated he'd "definitely" bring in a replacement in the event of Vermaelen seeking greener pastures and I'd assume he'll keep to those words.
The 'who' remains anybody's guess at this point. Although young Calum Chambers has shown himself to be very capable in the early stages of his time at Arsenal, I imagine he isn't the answer Arsene has in mind- there will be someone else he's got his eye on, someone with a little more experience. My inclination is he'll look for someone capable of filling both a defensive and midfield position, much like Javi Martinez has done for Bayern reguarly.
With the season fast approaching, Mertesacker a little behind schedule and our options a mere injury away from the terror of Nacho Monreal playing at centre back, this is a situation that'll need addressing sooner rather than later. Arsene has stated he's got a plan, it'll be interesting to see wether or not it comes together.
That's all for today, folks. Use the comments to tell me who you'd ideally see filling the void left by Vermaelen. In other news I've just remembered, Arsenal's Champions League opponents for the qualifying rounds are Besiktas. Potentially a tough trip away in Turkey, but not a side I'd fear to give us too much trouble over two legs (too many tos and twos…). We passed our Turkish test last season with ease, I see no reason why history shouldn't repeat itself.
As always, thanks for reading, you beautiful bastards.