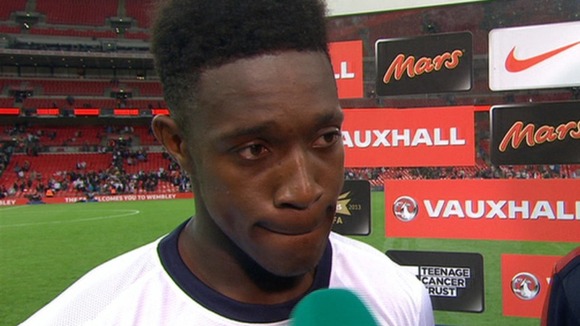 Morning, folks.
I'm writing this post at 11:00pm last night as the deadline day window has just slammed firmly shut. However, Arsenal have just been granted an extension by the FA to secure the services of Danny Welbeck. I'm going to assume it will be completed and Welbeck will officially sign as I truly cannot be f*cked to wait around any longer for confirmation.
First things first (I'm the realest…), the signing itself (this post is going to be utterly pointless if something occurs whilst I'm sleeping). Extraordinary it is certainly not, but it is also an acquisition some distance from the label of "appalling" some have stuck to it. In fact, the more thought I give, the better it sounds. Arsenal have signed a 24-year-old England international, a Premiership winner and someone who started 70+ games under Alex Ferguson. Granted, stating those facts does smack a little of trying to gift wrap a turd, but we shouldn't be totally devastated. Welbeck is a solid, Premiership-quality player.
With United getting Falcao (no confirmation on this one either at 11:05pm) it's easy to see why some fans are in uproar. Louis van Gaal has gone out and recruited one of the best strikers in the game, albeit at a thoroughly ridiculous price and astronomical wages. By comparison, Danny Welbeck is hardly reason for joyous exclamations.
Yet he does represent another option up front, one with experience in the Premiership and a player I hope will surprise a few people. I see no reason to be disheartened. But hey, that's just me. I didn't cry when I saw Bambi as a child. I have no soul.
Where I do see good reason for alarm is our paucity of defenders. We are a couple of lengthy injuries away from having a real problem at the back and it's an area that required addressing (again, I'm, assuming nothing has happened overnight). Arsene Wenger is not above reproach. As most of us do, he makes poor judgement calls from time to time. Given the frequency with which we suffer injuries at the most inopportune of times, I'm genuinely surprised no action has been taken.
Call that what you will. wether it be confidence in what he has already or simply a case of neglect. It matters very little now as it can't be altered until January. Could it prove costly? Unquestionably. I'd go as far as saying I expect it to bite us in the arse at some point in the following months. However, Callum Chambers has had an promising start to his Arsenal career, Mertesacker and Koscielny are an excellent partnership and we have good cover at full back. Should we manage to stay injury free until the next window, I don't see there being a problem – I freely admit that is a f*cking huge 'IF'.
Now that the madness of D-Day is behind us we can focus on the football….
Oh right, we can't. We have to wade through the interminable dross of international fixtures for a week before the good stuff restarts. Doubtless to say, the level of worry when Arsenal players out on the colours of their national teams will be practically stratospheric.
I think that's all from me as I'm tired and wish to go to my bed and dream of kittens and such things. Anything to take my mind to place far from the hatred and formidable rage of today. There are a lot of folks out here who seem to forget that allowing yourself to become incandescent over a situation you can't possibly control or alter is an exercise in futility.  We can but sit back, take stock and support the players in the shirts. Danny Welbeck, by all accounts wanted to come and play his football at Arsenal and rejected Spurs to do so. I think those are a couple of good reasons for us to at least give him a chance, don't you?
The comments await your thoughts below. Did D-Day cause you great anguish, or did it pass you by like spiders somehow do during the night when going about their web-spinning antics? Let me know.
I'll be back tomorrow with more. Please disregard this entire article if something has gone tits up with the deal. It's 11:17pm now, anything that occurs after this time I am blissfully unaware of.
As always; thanks for reading, you beautiful bastards.