Morning, folks.
There's quite the abundance of rumour today. As the horrors of January's window head into the last stretch, everything becomes heightened; speculation doubles, hopes rise and the whole sorry saga transforms into farce. As an Arsenal fan hoping to see our title bid bolstered by a new addition, I'm finding myself at the point of beginning to hope we might do something.
Arsene certainly is a wily character. He's not known for being one that offers anything other to the Press than what he wants the world to hear. Behind closed doors his activity – or lack of – is guarded with secrecy – I like to think of him as the Christopher Nolan of the footballing world. Le Boss might say one thing, but you can never truly be sure wether it's the truth, or simply just the cautious I-don't-want-to-say-anything-that'll-f*ck-things-up approach.
The rumours surrounding Julian Draxler won't relent. The media may have made enormous mountains from the smallest of molehills, but everything appears to be heading toward a deal materialising. I'm reminded of Ozil's arrival in the summer; everything was quiet until the last day then BANG! we had ourselves a world class player and a record signing. Perhaps it's that fact which gives me some hope that Draxler might be signed. Even if he is currently injured and likely to mix a chunk of our tough February fixtures, the boost given to the Club, the fans and the players could be of immense value. The kid is special. Just watch any of his numerous videos dotted about the Internet if you have any doubts.
However, certain parts of the deal being reported I do not like one little bit. I'd love the him to be unveiled as an Arsenal player, but certainly not if it involved Podolski going in the opposite direction. Lukas is a wonderful guy and arguably the most lethal in front of goal in the first team. His contributions on the scoresheet are going to be vital. That's not to mention Lukas is an enormously positive influence in the dressing room and someone I'd see as the ideal person to help his younger countryman settle into London. Selling him to fund another deal makes no sense. I'm sure Arsene feels the same way.
At this stage, with mere days to go until that bloody window shuts until the summer, I am trying not to get my hopes up – as Joy said in the comments yesterday, "I hate to be heart-broken".  Allowing yourself to get excited at this point will only lead to an unnecessary feelings of misery should what which you so covet fail to come to fruition. Just go with the flow, folks. Maybe we get Draxler, maybe we don't. Let's just wait and see what happens.
Other news yesterday presented us with a tough draw in The FA Cup 5th Round – we face Liverpool and the 'SAS' at The Emirates – I really do hate that way of referring to Suarez and Sturridge, it's excruciatingly sh*t-awful.  I can understand why many would have preferred and easier draw given the plethora of big games currently occupying calendar space in February, but I'm always happiest when Arsenal are competing against the bigger teams. The FA Cup still retains some of it's tradition and joy for me, and the thought of a big game brings all those childhood memories I have of similar matches flooding back.  Besides, wouldn't you rather see Arsenal involved in that type of fixture than a tepid clash with lower-league opponents?
With the draw also throwing up a potential zinger between Man City and Chelsea, it certainly opens things up for a good chance to get to the final. I wouldn't be as presumptuous to think we'll beat Liverpool, but if we do, it gives us a very good opportunity to progress to Wembley. As I've stated many times before – I would adore Arsenal to win something this year, and I absolutely don't care which of the 3 competitions we are still involved in it is. Okay – I'd probably put the Premiership title as the ideal choice of the 3, but I wouldn't feel let down should we triumph in the other 2 instead.
Lastly, today is alleged to be the day we announce the details of a new mega deal with Puma. In honour of such a thing, I took at leadt 2 minutes of my time to have a quick look about the Web to find my favourite 'leaked' version of next year's home shirt. I kinda dig this one: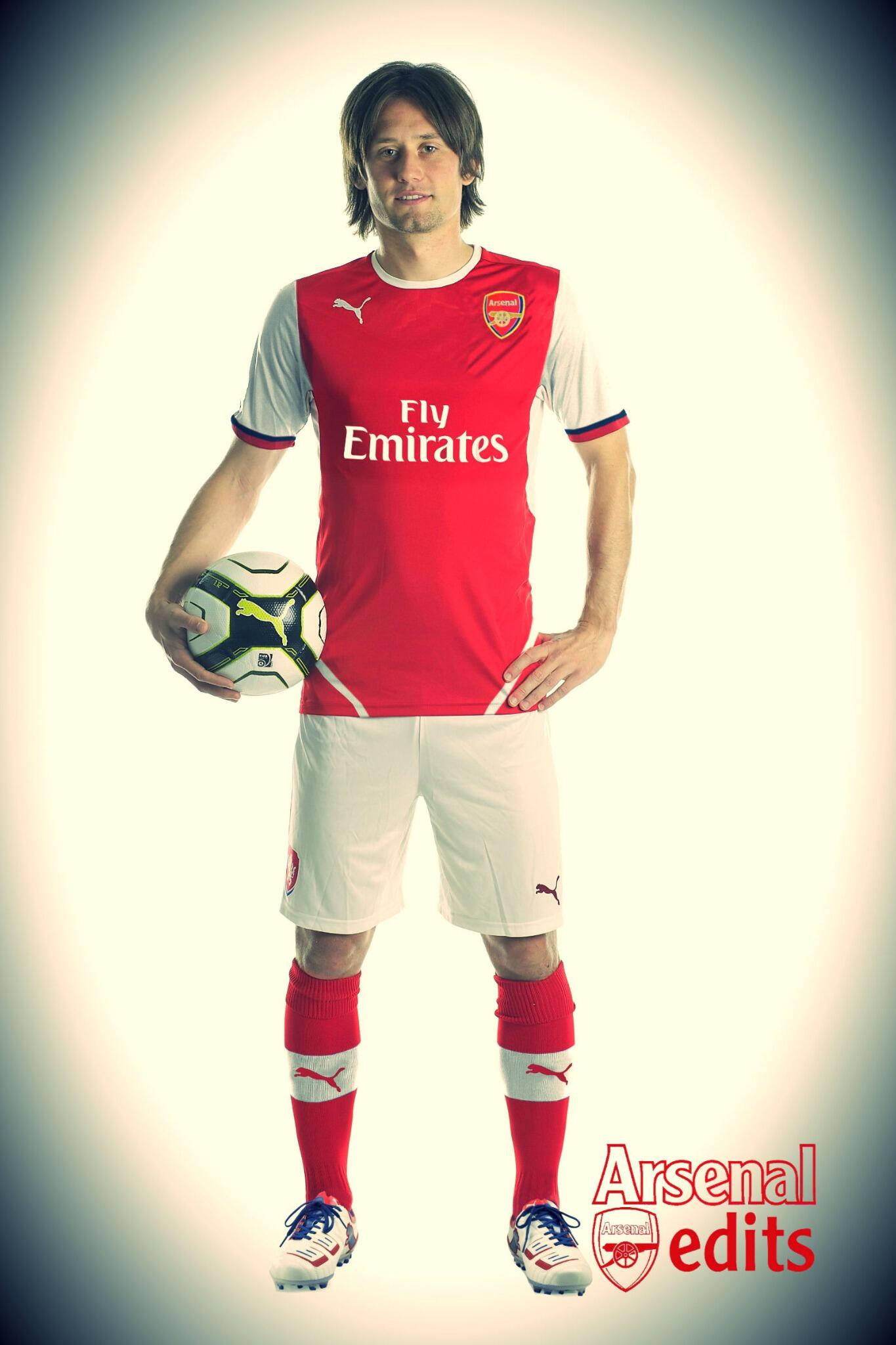 Right, that's it from me today. There's a mountain of chores lined up to tackle, and I'm doing some writing for the Goonersphere Podcast aswell. It's the crazy life if you're an Arsenal blogger…
The comments section is below and you all know you wanna drop me a line with your thoughts of the day.  Would you be happy to see Podolski depart if it means getting Draxler? Do you hold high hopes for a January arrival? Let me know what's on your mind, boys 'n' girls.
As always; thanks for reading, you beautiful bastards.