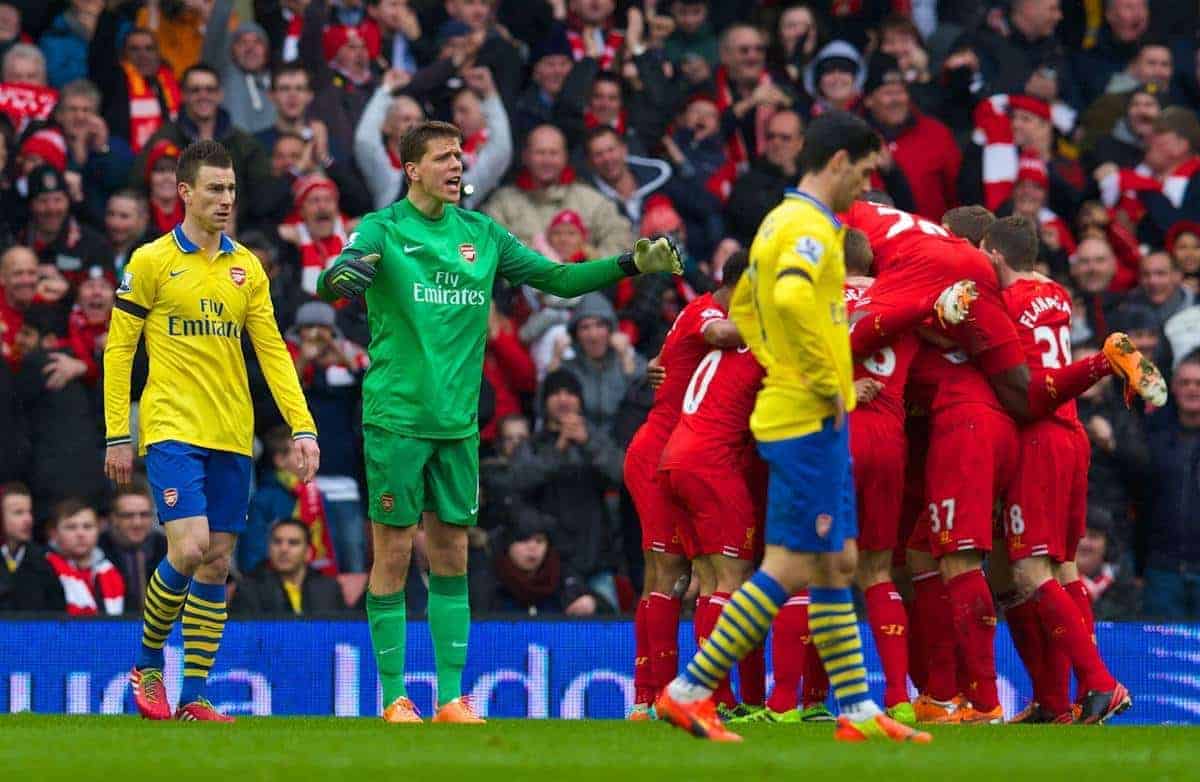 Morning, folks.
As I might have mentioned a few times in the past, my gainful employment puts me in close proximity to 3 fevered Liverpool fans. The previous week hasn't exactly been a barrel of laughs. Far from it, in fact; the taunts are interminable and predictably insipid. They've been relentless, and maddeningly so.
Arsenal should be out for revenge today; to put right one of the worst performances in recent history; to progress forward in a cup competition we stand a very good chance of winning and to make my working life immeasurably more bearable – being able to return some of the "bantz" would be extremely enjoyable at this point.
Shortness of time and the desire to have some breakfast before heading out means I intend to make this little preview relatively short. I touched on some of the team news yesterday, and not much has changed since then. Aaron Ramsey and Theo are still out along with Santi Cazorla, or at least it was alleged to be that way. There's a little confusion surrounding his availability, but I'm not sure he'll play. The Flame returns from suspension and I expect him to replace Mikel Arteta. Thomas Vermaelen remains injured amidst rumours of a summer exit and Abou Diaby has taken to hand-gliding across the Cotswolds and may not be seen for some time. He was last spotted swooping across the M5 headed towards a Wetherspoons.
With the Champions League fixture against Bayern looming on the horizon, I would say it's a safe bet to expect a few changes today. That will probably mean we see starts for Jenkinson, Monreal, Podolski, Fabianksi and Bendtner. I'm not entirely sure I agree with fielding a 'weakened' team in a match that is of huge importance, but sometimes needs must. Arsene has always prioritised competitions, and, rightly or wrongly, England's most prestigious cup competition has fallen down that list in recent years.
My guess at the line-up is:
My biggest hope today is that we use the humiliation of losing 5-1 at Anfield as a means of spurring ourselves on. That result was appalling, and we can only hope a mere blip as we progress forward. Liverpool showed us the benefit of starting strongly that day and we can ill-afford another sloppy and tedious approach to the first half.
Tactically, I expect Brendan Rodgers to fancy having a go today. In the league fixture at home he deployed his troops in a pedestrian manner hoping to stifle and counter. Confidence in his players' attacking verve could mean he opts for a different approach this time. His team have proven themselves to be a very good side and we'll have to cast our demons to one side and perform if we wish to beat them. I know the Arsenal team has more than enough ability to do that. The only question is whether that pesky monkey that often resides on their backs is here today. If he is, we might have problems.
I'm going to predict an open game and Arsenal to win 1-0. I'll take any sort of victory. A draw would be of no use to anyone, and given their lack of European football, would suit Liverpool more than us.
That's all for today, folks. The comments section awaits your thoughts below. How would you line-up the team? Do you agree with Arsene rotating the players? Let me know what you think. Tomorrow I'll be back at the usual time with a match review.
As always; thanks for reading, you beautiful bastards.