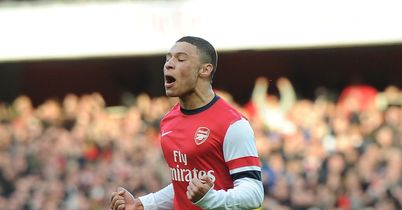 Morning, folks.
When I saw the team sheet for yesterday's fixture, I wasn't entirely sure how I felt about it. I knew the rotation was coming, with Bayern coming to town on Wednesday a few changes was inevitable. Call me a soppy old romantic, if you will, but the FA Cup still holds significant sentimental value for me. I didn't really feel too glum about the selection or those involved, just a little disappointed by the absence of a few players. As it turns out, other than Szczesny, the changes were largely forced upon Arsene.
The team that took to the field might not have been out strongest 11, but it was an exciting team with a few eye-catching performances. Yayo Sanogo made his full debut and whilst still very raw, certainly caught the eye with an impressive debut. He's a big lad with a decent touch and he gave Agger and Skrtel all kinds of problems, comfortably out-muscling both on numerous occasions to such an extent they began to resort to cheap fouls.
I was impressed. I can't claim to know much about Sanogo before he came to Arsenal other than he's had a few injury troubles and became the brunt of people's frustrations over the summer. It's very early days yet, but he performed well and deservingly received a standing ovation from The Emirates crowd when he was substituted.  Perhaps it's a tad knee-jerk for me to say, but with Bendtner likely to leave in the summer, perhaps Sanogo is a better choice of deputy to Giroud. If he performs like he did yesterday, he'll give plenty of defenders problems.
The most impressive performances were Ozil, Chamberlain and Fabianski.
Mesut has has his detractors in the past, but he looked up for the game from start to finish; scurrying about looking for the ball and showing some fabulous touches. He had a hand in both goals – his pass to set The Ox through for the second was a perfect example of glorious precision.  At one point he was even making tackles and winning the ball on the edge of his penalty area – shock, horror!! – and he tracked back to cover the full backs on more than one occasion. I hope there's more to come. Much more.
Chamberlain also put himself about and threatened regularly with his directness and clever runs behind the defence of Liverpool. Wether you feel he is best deployed centrally or out wide, he has the ability to impact games from either side, and his greatest strength in my opinion is his ability to play different roles well in equal measure. That attribute is what makes him a threat in the same way Freddie Ljungberg was . His first goal showed awareness in the box, and the assist he provided for Podolski's was a lovely cut-back. Since Theo has been injured, The Ox has contributed an enormous amount to the goals we've scored.
Best of all was Fabianski. He's had his faults over the years and made the odd calamitous blunder. Those can't be denied. However, as he's aged and matured, a very, very good goalkeeper has emerged. Liverpool had their chances to scores more than 1, but Fabianksi was equal to everything Liverpool fired his way. He even had Daniel Sturridge tying his shoelaces for him…  It's almost a shame he's opted to leave in the summer, but he announced his departure with dignity and class and few could begrudge him his wish to play regular football. In this kind of form, he'll make an excellent No1 for someone.
On the whole, the performance was a good one. We rode our luck at points, and few could argue Liverpool were denied a penalty; a spot-kick I'm certain they didn't get largely down to Suarez's histrionics and startlingly over-exaggerated tumble. We had luck on our side in patches, but no more so than Liverpool and especially Steven Gerrard who, these days it seems, needs to ritually slay a teammate to receive a second yellow card.
It was a thoroughly enjoyable match played by two teams eager to attack and get the win. In the next round we'll face Everton and maybe, just maybe we can start to dream about our name being on the cup this year.
My last mention today is for Olivier Giroud and his personal problems. I have no intention of discussing what he did as it's none of my business. Nor is it yours or the media's. He has obviously made a mistake and wishes to be left in private. Sometimes that's a luxury not afforded to professional sportsmen, but I prefer to talk about what they do on the pitch in an Arsenal shirt. The rest, unless it's detrimental to the Club, doesn't concern me.
Hopefully we can take this victory and press forward. We'll be playing arguably the best team in Europe next, and I'm looking forward to it. If you can't look forward to this kind of game, what can you? It should be a fantastic spectacle and I hope the players are up for it and have a real go at Bayern.
That's all for today, folks. Let me know your thoughts on the game. I've not mentioned Jenkinson or Podolksi, both of whom gave performances worthy of note. Who was your stand-out player? Don't be shy, drop me a line.
As always; thanks for reading, you beautiful bastards.