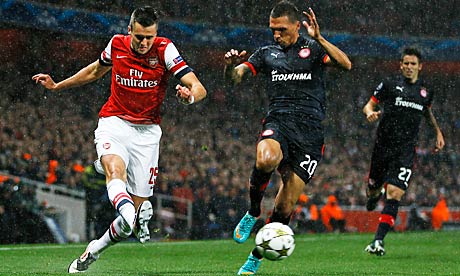 Morning, folks.
We hoped for a delicious, invigorating win . We got one. Kind of…
The history records will show what appears a simple victory. Those of us that watched the game will know it wasn't quite as cut-and-shut as the scoreline suggests. The first half was slow, and rife with those worrying defensive lapses we've become too accustomed to over the years – would someone PLEASE tell Thomas Vermaelen that his impromptu charges upfield rarely serve the team well.
We were sloppy, and far from our cohesive best. We took a slightly undeserved lead through an excellent Gervinho finish – he is looking good at the moment – , only to surrender it three minutes later. In the centre of our back four, the partnership between Vermaelen and Koscielny – as talented as both are – seems a bit too much of the same for me. When Mertesacker is partnered with either, there is a better balance and we have someone with genuine presence and height in the box. The big German has been excellent so far this season, and I don't think it's coincidence that our defensive blunders have begun to reappear in his absence. I'm at a loss to understand why our form defender has been dropped so quickly.
On the plus side, at the back, Carl Jenkinson has been putting in some superb performances. Watching him last season at Old Trafford, I wrote him off and assumed he'd never recover from such a torrid afternoon. Since that infamous day, he's put in the work, and that's evident on the pitch. He looks assured, strong and he has a remarkable fitness level. For me, he is our best player this season, and undoubtedly the most improved.
In the second half last night, we looked much better. There was an urgency, and, at times, the fluidity returned to our play. There was the odd moment of worry provided by a decent Olympiakos team, but we controlled the game and, in the end, deserved to take the full three points. Podolski put us ahead around the hour mark, and a lovely finish from Aaron Ramsey in injury time secured the 3 points – a result made all the better by Schalke and Montpellier drawing.
To sums things up; we got the victory, and in the light of day that is all that matters. The performance was some distance from vintage Arsenal, but there were good signs and after a defeat as sapping as the one we suffered at the hand of Chelsea, it's what we all needed. It wasn't comprehensive, flashy, or the setting of a marker, but it was a win, and three points are three points no matter how you get them. Six points from a possible six is an excellent start to the group.
However, those defensive slips and fuck ups are still there, and better opponents would have punished us far more last night. There is still plenty of work to be done in that department, but plenty of time in which it can be done. There is still no reason not to be optimistic, and I intend to retain that mindset, even if some around me seem intent on losing their minds at even the slightest of bad signs.
Thanks for reading, you beautiful bastards. The comments section is below. It awaits your responses and thoughts on the game; were you worried by the defence? Were you impressed by Gervinho? I await your views with quivering anticipation.