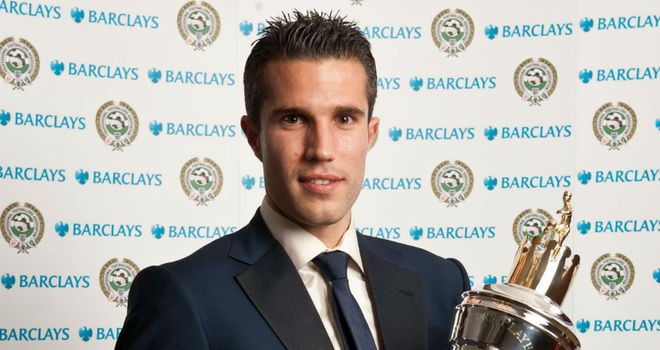 Monday morning greetings, folks.
There is only one man who's going to take up today's post. I'm sure you'll all agree, he's been nothing short of magnificent this season. Last night, his peers voted Robin van Persie the award for player of the year.
Richly deserved.
It made me think about the impact a fully-fit Robin could have had on our previous pushes for the title. Would our silverware drought be a subject for conversation any longer had he played the whole of 2008/2009? Probably not. It's such a shame that niggling injury has denied us the regular services of a genuinely world class forward.
This season, with those injuries behind him, he's shown the impact he can have. Whether is be a poachers goal, or a miraculous 25 yard thunderbolt, Robin has proven he is a centre forward with everything in his locker – he's even pretty handy in the air. Before yesterday, only Liam Brady, Thierry Henry and Dennis Bergkamp have picked up the same award. He can join those safe in the knowledge he'll be club legend for many years.
As a captain, he has always practiced humility and praised others before accepting praise himself. That's a sign of the man he is. When accepting his award, he said:
"If other people are saying it, it is special, but it is even more special if your opponents are saying it,"

"It is very special because you are playing against them week in week out and every single player does everything to win and in the end if they make up their minds that I'm the best player it is a big honour."
He went on to single out the contribution of his teammates:
"Without them I could not have achieved it. For example Theo Walcott, he has given me more than 12 assists and I do really appreciate that."
Robin van Persie deserves every bit of praise he'll be getting. Like all of you, I can only thank him for his performances and goals this season and hope he's around for a good few years yet.
That's all for today, folks. What is your favourite Robin moment? Lets me know in the comments section below.
To get you in the mood, here's a taster of some of those fantastic goals we've seen over the years:
Thanks for reading, you beautiful bastards. Take a moment to follow my Twitter account- @_ArmchairGooner