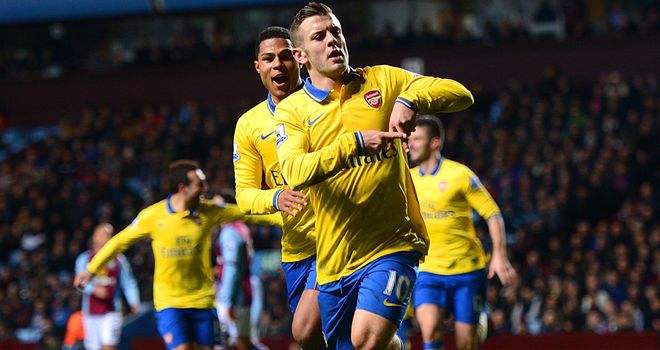 Morning all.
Those nerves I mentioned yesterday, they came back. With a vengeance. During the last 15 minutes when we inexplicably allowed the worst Villa team I've seen in years back into the game, my poor innards were treated to a maelstrom of curious sounds and pained exhausts. Before the game I'd actually settled down and was prepared to enjoy a pleasant evening's viewing. After that glorious 59 second period in which Giroud and Wilshere netted superb goals, any remnants of terror washed away absolutely. Or so I thought.
Oh, Arsenal, how you love to torment me.
When reviewing Arsenal, it's often easy to point our certain areas where you believed improved could be made and end up sounding churlish. We came through an away fixture with three points and that's all that matters. However, so long as it's minus vitriol and has a constructive note, I don't see the problem with it. Nothing in life is good all of the time, so I don't see why people insist upon pouring their saccharine positivity over everything. Honesty is always the best policy.
I thought we should have played better in the second half. I can understand why we didn't. When the game re-started after the break, it looked, for all intents and purposes, a forgone conclusion. Arsenal lead with comfort and enjoyed the majority of possession. The players appeared to share the same belief. That ugly complacency monster crept into our play; legs laboured and simple passes went astray. Christian Benteke's goal had an air of inevitability to it. It was a huge disappointment to see and caused my stomach no end of distress.
Yet, that disappointment is just how I felt at the time. It's okay to be a little upset at things and wish for them to have played out differently. It's called giving a sh*t. Don't allow yourself to be bogged down by folk who demand positivity at every turn; folk who state you aren't supporting if you dare to raise an opinion in direct contradiction with their insipid mantras. All I'm saying is we should have buried that game before Villa even had a sniff at goal. It could have cost us dear. Thankfully it did not. If we made that mistake against a better team, the outcome may not have been as favourable.
You might notice a theme running here. Apologies, but I'm currently a little tired of bickering and people that feel they have a right to tell others how to support their team. Some notions I do not agree with. What I have absolutely no right to do is use my own values as a means for throwing abuse and mockery at others. I'm neither WOB or AKB and I'm both at the same time. I'm a football fan; my emotions can often get the better of me. I'm a human being; I change my mind. I'm sensible and I'm a f**king idiot.
On the plus side; the nervy final minutes showcased how superb our defensive until has become. Mertesacker and Koscielny once again put in commanding, assured performances at the heart of the defence. Never one to shy away from praising The Flame, I also thought he offered us that extra bit of steel and determination, plus he always looks moments away from killing someone and i find that highly entertaining.
When all is done and dusted; when the cows have come home for milking; when the cheese is in the sandwich; when Mother has shaved little Leopold's scrotum in time for Church; Arsenal secured 3 points, and that, delicious readers, is all that should matter to anyone. We sit pretty atop the Premiership and have taken another step towards the unbridled glory of lifting the Champions' crown. There's still a long way to go until the prizes are handed out, but we stand as good a chance as anyone. The Arsenal train is heading forwards with momentum.
I have absolutely no idea what the f**k I'm talking about today. I'm bloody tired, so what I've presented before you today is odd. Not overly odd; there are no stories of Dave Seager's penchant for pyjama pilfering to wade through, but it's not the most comprehensive of reports. Often I wonder  how many people get to this stage of the post. Maybe, you're reading this part and considering clicking away and finding a more informative and knowledgable report. Don't – there is a lovely comments box beneath this post where you can discuss the game and what I've written above. Drop me a line.
As always; thanks for reading, you beautiful bastards.