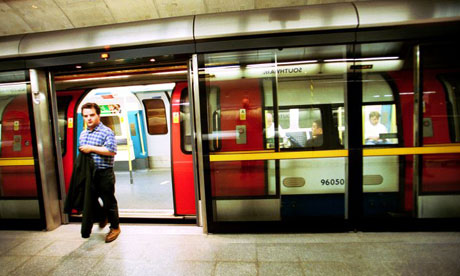 Afternoon folks.
The fixture scheduled for December the 26th with West Ham has been cancelled. The strike involving train drivers on the Underground will go ahead, and disruption to all the major services means we'll have to wait until mid-January to take on the Hammers.
Damn those pesky train drivers.
Most of the Arsenal-related chitter-chatter today surrounds the potential incomings when the window for transfers opens. Klaas-Jan Huntelaar, a man many thought a certainty to head to Arsenal, now appears likely to extend his contract at Schalke. The Dutchman is unquestionably prolific, and a better option than what we have in reserve, but given his age (29) and rumoured wage demands (£100k-per-week) it's not our loss at all.
There are younger strikers out there, and better ones. If there is any truth to the alleged "£70m war chest" then I think we can set our sights a little higher. Fernando Llorente is another option regularly mentioned, and, in my opinion, a far better player. With his £7.5m release clause, Newcastle's Demba Ba isn't a bad option to bolster our striking ranks. However, taking his propensity for injury into account, I'd again hope for a better player to be located.
Announced officially by the club, some very good news has emerged today. Carl Jenkinson, Kieran Gibbs, Alex Oxlade-Chamberlian, Aaron Ramsey, and Jack Wilshere have all committed their long term futures to Arsenal. At the base of our British nucleus, the 5 have all shown (Yes – even Ramsey…) they have massive potential and ability. Signing them to long-term deals is a very good bit of business – and it's not too shabby as far as PR in concerned, either.
All that's up in the air now is Theo's future. And that I'm certain won't end as favourably. Sifting through all the stories regarding what happens behind closed doors really only leads to confusion. Some say he's eager to sign, and it's only the parsimony of our board preventing him doing so. Others would have you believe all this talk of playing centrally is just a smokescreen, and Theo is all about the cash.
The answer is somewhere between the two. Arsenal players running down their contract as Theo is has become something of a bore. I can't see anything other than a departure as the outcome. It's a shame, as I'd like him to stay, but I shan't shed many tears if he does leave. I've grown accustomed to seeing it happen. If he really wanted to sign, he would have done it by now.
That's all for today folks. Christmas is lurking, and my hectic working life is finally winding down after sheer madness. Time for a bit of shopping to be done, I think.
The comments below await your views and thoughts. Where would you strengthen the team in January? Do you think Theo will stay? Let me know.
Thanks for reading, you beautiful bastards.