Evening, folks.
Seeing as we're in the last hours of 2013, I thought I'd join in with the look-backs and other such things and offer a few of my own.  Ordinarily, I grow tired of this kind of thing as, to be perfectly honest with you, who gives a f**k about my favourite moments of 2013? However, my absolute refusal to head out into the farrago of enforced frivolities tonight has left me at something of a loose end. So I thought I'd write this before indulging in a marathon session of watching all the episodes of Firefly back-to-back.  I'm still waiting on that call from Scarlet Johansson…
Given that I have an incredibly selective and relentlessly poor memory, this isn't going to be particularly easy for me. In fact, every ounce of me is urging myself to do this list how I'd like to and have it avoid homogenous regurgitation. However, I'm sure you don't want to read my personal and, frankly, bizarre highlights. You want to cast your eyes upon highlights that relate to Arsenal. I can only keep myself at bay for so long, so it's going to be a mixture of the two.
I hope you enjoy it.
1. 1-1 at Newcastle. The phantom goal. The goal that didn't exist and the celebrations that accompanied it. With Spurs looking to pip us to the remaining Champions League spot, they needed to better our result at St James' Park. They didn't, but thanks to this calamitous blunder from Alan Sugar, they thought there was a ray of hope:
There was limitless humour to be gleaned from the moment they thought Newcastle had equalised, and immeasurably more upon the realisation that it was all one big misunderstanding.
2. Daniel Cowan's swollen genitals of desire. It is often the silly little things that make me laugh the most. During a recording of The Goonersphere Podcast which I co-host with Daniel Cowan, my good friend took a second of his time to inform Andrew from Arseblog that his mellifluous, alluring Irish tones were causing all the blood in his body to pump towards his gentleman's bits in a tidal wave of arousal. That in itself is funny, but best of all was Andrew's momentary pause and slightly startled reaction – as if he wasn't quite sure whether or not Daniel was being serious.
3. Signing Mesut Ozil. How many of us, had we been asked at this point last year, would have believed we'd shell out in excess of £40m on one of the best players in Europe over the summer? I'm certain I'd have cried, "poppycock!" at the very notion.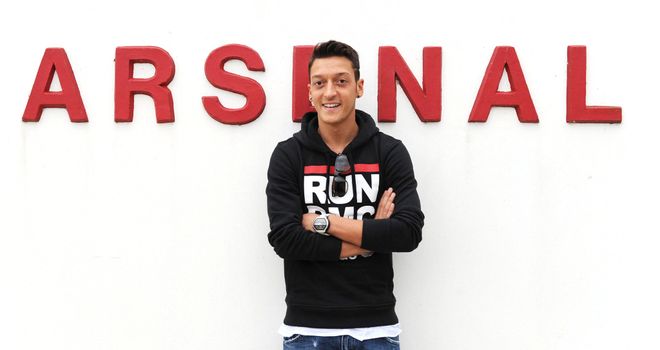 Yet, on the final day of the transfer window, there he was looking all boggle-eyed and beautiful. His presence alone has given everyone at Arsenal an enormous boost, and whilst there are those doubting his credentials, I do not. The best is still to come from our German playmaker and when he's fully settled into the Premiership and his new club we will start to see some wonderful things.
4. Becoming a podcasting sensation (not really). This entry should probably be before No2, but forward thinking has never been one of my strong points. For some time I've wanted to have a show of my own, and now I'm fortunate to have something far better; a show that I co-host with someone just as f**ked up and magniloquent as I am.
It's an absolute blast to prepare and broadcast to you all. Daniel and I glean genuine pleasure from putting our heads together and coming up with various sketches and hat tips for you. We hope to keep up regular shows for  2014. I should also mention that I've made quite a few friends from my exploits, and a big thank you is extended to Danny and Gimli of A Bergkamp Wonderland, all their regularly featured panelists and especially to all the folk that have given up their time and made our show that little bit better with their seductive tones.
A secondary part of this would be to thank my co-host Daniel for all his technical expertise and patience listening to some of my ridiculous and offensive ideas, and to Willem Gonggrijp for showing what a good natured sport he is. Mother. F**king. Crepes.
5. The rise of Aaron Ramsey. 2013 has certainly been the year in which doubters have had to consume copious amounts of humble pie. A much maligned and unfairly abused figure this time last year, Aaron Ramsey's transformation into darling of The North Bank was quite astounding.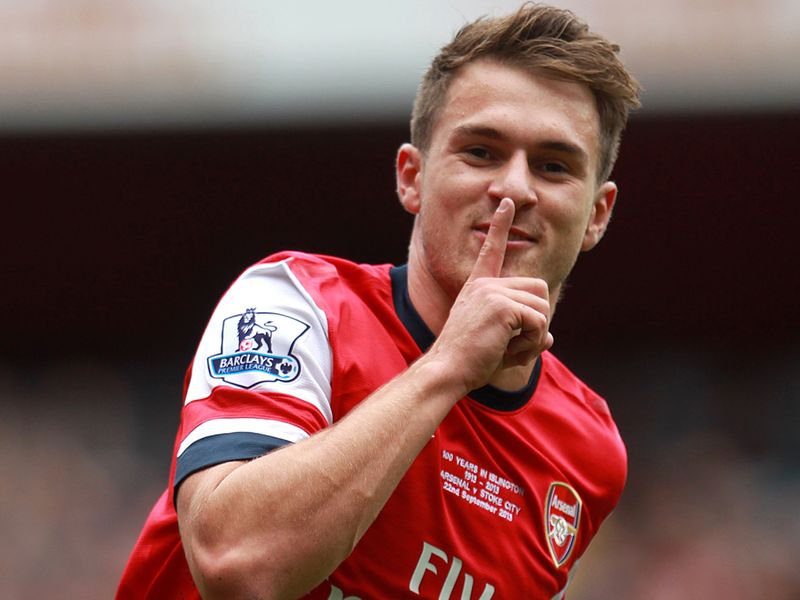 Since the beginning of the year, and especially since the beginning of this season, he has established himself as one of the best midfielders in Europe. He scores goals, makes goals and he doesn't stop running for 90 minutes. A lot of people wrote him off, singling him out for blame at every opportunity. I wouldn't dispute his form wasn't the best at one point in his Arsenal career, but always hoped he'd show everyone what he is truly capable of. The guy has been simply brilliant.
6. They're having a Twitter meltdown! We all know that Twitter is one of those networks on the Internet that has as many good moments as it does bad. We all know that for every person you interact with on there that is entertaining and informative, there's someone filled with bitterness and hatred looking for some way in which to let all those feelings free.
Great if you could all shut up about Anelka & Ramsey injury and get back to what Twitter is about. Calling @_ArmchairGooner a salty harlot.

— Dyllan Munro (@GoonerDyllan) December 28, 2013
Tweets like that one above are the reason I persevere with Twitter. Yes – on occasions I wonder why I bother when folk explode into self righteous anger at the silliest of things, but for all the humour and wonderful people I've been able to interact with, it has been worth every minute. Plus, I find all those meltdowns to be bloody hilarious.
And that folks, is my list of favourite moments of the year. I'm sure you all have your own. The comments sections awaits you below. Please use it to tell me your best and worst moments from the past year.
I almost forgot to mention; Hilariously, I've been nominated in the 'best blog' category of the YDA Awards. Seeing as I'm up against some stiff competition and I'd really like to not come last, I shall point you in the direction of their voting page.
Happy New Year and thanks for reading, you beautiful bastards.