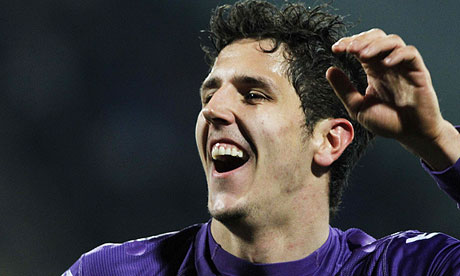 Afternoon, precious creatures of the Goonerweb.
Someone pointed out in the comments section yesterday that my prolonged absence has coincided with an upturn in Arsenal's fortunes. Since I banished my self deep into the blogging wilderness, our form has been pretty damn impressive indeed – excluding the obligatory blemish here and there.
Should Arsenal's fortunes plummet now that I've re-entered the fray, I fear that I might have to hold myself responsible. Well, I would if I payed even the slightest bit of attention to superstition. But some of you do, and It's for that reason I'm going to offer apologies in advance should there be a freak and eerie occurrence that you hold me responsible for. I'm truly sorry, but simultaneously believe you to be a little crazy for believing in such things.
Other things I struggle to believe are transfer rumours. Whilst you bask in the wonder of such a seamless and well-thought segway, I will turn your attentions to this; one of the many stories surrounding Fiorentina's brilliant Stefan Jovetic, and his alleged imminent transfer to Arsenal.
I've been doing this blogging malarky long enough to know that most transfer rumours start out from the spurious outlets and quickly die a death once they've floundered in cyber space. Others are picked up by the more reputable news stations and sometimes they have an element of truth. Stefan Jovetic appears to fall firmly in the latter of the two camps.
That's not say it's entirely true. The likelihood of him donning the red and white shirt isn't comprehensively in favour of a yes – there are a few other big teams circling. But there isn't smoke without fire, and I've a good feeling. A warm feeling of hope and optimism. You know the kind I mean; similar to the moment you become fully aware that a girl is willing to have sex with you, and all you have to do is not fuck it up.
As the season draws to a close, a great deal hangs on 4th place. Qualification for the Champions League may not be the Holy Grail it's made out to be, but there's no doubting being in Europe's premier competition will only help recruitment. As the story says, Jovetic's proposed move hangs on the outcome of the season for Arsenal, and it's possible we'll lose the chase should we come in disappointingly.
But at this stage all we can do is assume. When the season is over, we shall better know where we stand. Speculation has it's place, and that place is the summer. For now, we have an important game with Norwich on Saturday, and the focus of fans, players and management should be on that. 4th place is in our hands. Don't take your eyes off the dubious prize, Arsenal.
That's all for today, folks. It's sure good to be back talking to you all again. Should you wish to communicate, then there is a handy and accesible comments section below that is just waiting to be used. I look foward to hearing some of your thoughts and views on the Jovetic rumour, or on any rumour you might have come across.
Thanks for reading, you beautiful bastards. I shall return tomorrow.