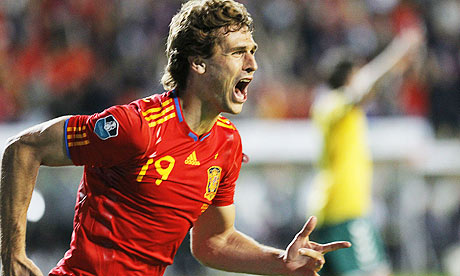 Morning, folks. What a beautiful Monday morning it is.
Those of you that use it will know Twitter is capable of popping up with some truly wild and spurious stories. According to a very dubious 'journalist' in Bilbao, Fernando Llorente is heavily linked with a move to Arsenal. Now, before you get your hopes up, I'm not choosing to talk about this story for any other reason than it's quite funny, and obviously not true. The transfer window has progressively worsened with speculation as the years have passed. Twitter's emergence has enabled even the silliest of stories to quickly gain popularity, and most of them are either taken out of context, or entirely false attempts to gain a little attention.
It could drive you made if you crave your daily dose of legitimate news. When I'm having a snoop around, I enjoy a good rumour as much as the next person – it's essentially harmless and, at times, quite intriguing. Llorente would make an excellent signing for Arsenal, but it's not going to happen.
In news that is straight from the player's mouth, Aaron Ramsey has discussed his performances during the season past;
"To ask me to play to a high standard week in, week out, in the Premier League when you think of the pace that goes with it, was very physically demanding."

"People do forget how long I was out of the game and what happened. It's been my first full season. Overall, I am happy with the way things have gone.

"From where I was with the injury I think I've done pretty well.

"It was a long season and it was something my body has not been used to. It was quite obvious I would get tired towards the end.

"Although I've been pretty pleased, there is still a lot more to come. I know that.

"But this season has been a good stepping stone for me."
I like Aaron. I'm unabashedly a fan. Lot's of you are not. The level of vitriol directed at him, and the breathtaking stupidity that accompanies such remarks has been one of the low points of recent times. It baffles me. He's a young man, he's recovered from the type of injury I'd wish on nobody. He doesn't hide during games, he puts the effort in and he tries. Yes, there may be many occasions where the effort isn't matched by the performance, but that will come given time.
To blame him for defeats, to take to the internet and plaster it with hate-filled drivel and moronically inaccurate stats just because a scapegoat for the team's failing is needed, well… that's just plain idiotic. No, it's actually fairly despicable. He does not deserve any of it, and I don't believe any real Arsenal fan would take to abusing the players with such fevered regularity.
He will come good. Mark my words.
Lastly today, it's a bit about the apotheosis of man, Nicklas Bendtner. Allegedly, a number of clubs are chasing him, and Dortmund lead that particular charge. He will, by all accounts, be off our books for good soon. The sooner the better. He is grossly overpaid, and that money could be put to far better use somewhere else.
Thanks for reading today, you beautiful bastards. Take a moment to comment below, and you can follow my Twitter account
@_ArmchairGooner