Afternoon/evening, folks.
Hmmmm.
Not entirely sure where to start today. I'm disappointed. Doubtless to say, I'm far from the only Arsenal fan feeling that way at present. Yesterday did not go as planned. Before matches, I've a habit of playing out scenarios in my head, kind of like a pre-match pre-visualisation. When picturing the way events would unfold, images of a hard fought and close contest were conjured in my brainbox. I did not expect 9 goals.
In the face of defeat, it's very easy to look for a scapegoat. God only knows why, but some people feel they can ease their misery by piling as much blame onto the shoulders of one of the players.  Aaron Ramsey knows better than most how fickle fans can be when you're going through a bad time. Olivier Giroud seems to be the latest target.
I love Olivier. Yes, he isn't the all-action forward we are used to, but comparisons to players from the past are always unfair. He isn't Thierry Henry or Dennis Bergkamp. He's Olivier Giroud. He brings another dimension to our forward play, and as long as he isn't scoring, all the other excellent work he puts in goes unnoticed. I find that unfair. Look at his performances in an Arsenal shirt on the whole. He's done extremely well for us. Every player, no matter who they are, has periods where their form dips and things don't go as planned. Every player. To single him out for the kind of abuse he received for having an off day is absurd, and those people would do well to remember how many games he's played. Fatigue plays its part, and when there's no one else to back him up, you have to look at the manager. Man City have several strikers they can rotate. We have 2, and one of them is Nicklas Bendtner. Olivier needs help up there.
Most of the team didn't play to their best yesterday, but having watched the game highlights and in full  – I was working during live showings – I didn't think the scoreline was a true reflection of the match. Don't get me wrong, Man City were the better team and deserved to win. At times, their attacking play was outstanding. However,  I didn't think we had the rub of the green, nor did we deserve to ship 6 goals. There were certainly some peculiar decisions made by the touchline officials, and on another day we could of had 2 more goals, a penalty and seen City down to 10 men – Yaya Toure was obviously dangerously high with his tackle on Giroud: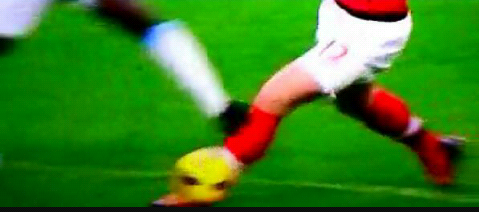 Those gripes are irrelevant now. Sometimes in football you just have to take your medicine and move on. There is little point dwelling on a defeat. Chelsea come to The Emirates in 8 days time, and that will be a vitally important game. Should we lose, I'm sure the fanfares of disharmony will erupt into a deafening roar of idiocy. It's so easy to snipe behind a keyboard. What I prefer to do is support. I don't make excuses for poor performances when, as fans, we have a right to hope for better. I retain my faith in Arsenal and the team. We have good players and a wonderful team spirit. We can accomplish things. Letting a poor performance and a deflating result fill you with rage and hatred baffles me. We can beat Chelsea. We are more than good enough to do so.
I'm going to leave in there for today, folks. Head to the comments and let me know a few of your views. If you've read Arseblog today, you'll have seen Andrew's closing few paragraphs. It's a sentiment I concur with absolutely, and will be adopting a similar approach. By all means constructively denounce players, but forget about any abuse getting on to the site. Especially if it's aimed at me – I'll just change those ones to something I deem more appropriate…
As always; thanks for reading, you beautiful bastards.