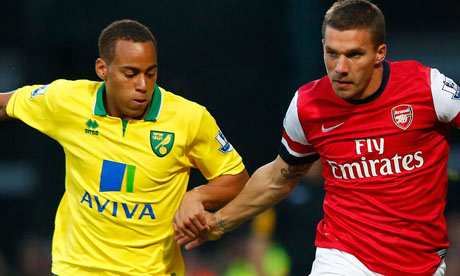 Afternoon folks.
It's difficult to know where to begin. I've spent today having to endure some pretty woeful attempts at humour from workmates – Delia Smith remarks, my splitting sides – and I'm still in something of a state of shock after yesterday's fiasco. I didn't see it coming; I didn't think we would go into a game we should win and be so unfathomably awful.
Had Norwich turned in a classic underdog performance, and beat us through will and spirit, I'd still be annoyed, but more likely to understand. They didn't, in fact; they were fairly pedestrian at best. They got the result because Arsenal didn't turn up, because, as Arsene himself admitted afterwards, "we perhaps underestimated them a bit".
I didn't much care for that remark. Arsene should have simply addressed the press with honesty, "we were bloody awful, and some players will be getting a dressing down". To admit – partially – to complacency and a lack of preparation makes him, and the team, appear unprofessional. The early part of the season has seen us put in some encouraging performances. Yet it would appear our propensity for calamitous displays is still very much alive and kicking. It may be early days, but if sufficient work isn't done to eradictae such an ability to fuck things up at a moments notice, we'll be looking at another empty-handed season. It may sound pessimistic of me to say so, but it is true.
As for the players, I would say only Arteta and Jenkinson appeared mildly interested. The rest were dreadful – lacking basic drive and enthusiasm. Cazorla looked sluggish, Ramsey was catastrophically bad in possession, Mertesacker looked nervy and tired, and Gervinho and Giroud showed the kind of ruthlessness in front of goal you'd expect from a kitten. Worst of all was Mannone. It's tough for me to be too hard on him, but he simply isn't good enough to be starting for a Premiership side – let alone one with alleged title aspirations. Szczsney can't come back quick enough.
I hate having to moan. I really do. I'd much prefer to be gleaning more positives from a comprehensive victory. When Arsenal want to play, we're a match for anyone. It's when we do what we did yesterday I despair. Any team hoping to challenge for the league has to win games like that – perform badly and still come away with something. I'm hoping it turns out to be nothing more than a momentary blemish, and one that will be soon forgotten. Yet it will always be there; that nagging sensation in the back of my mind that we'll push self destruct the moment things start to look good. We can ill afford too many more instances like that.
That's all for today folks. The comments are below if you'd like an avenue to vent your frustrations. Who's performance was the worst? Does the defeat worry you, or are you confident in our ability to bounce back? Let me know.
Thanks for reading, you splendid little units.