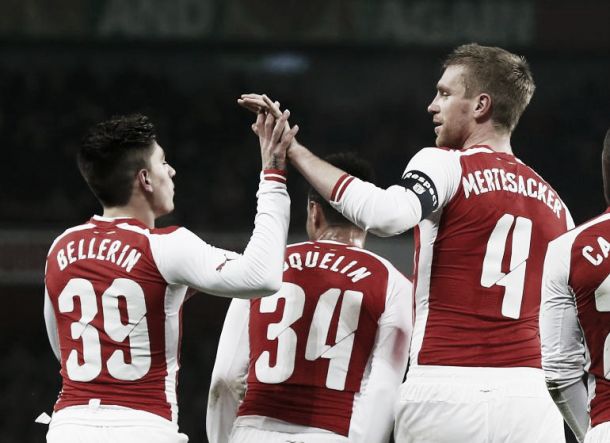 Morning, folks.
The FA Cup. Perhaps the most likely avenue in which to get our grubby paws all over some delicious silverware. All that stands between us and progression to the quarter finals is Middlesborough; riding high in the Championship and a team to be taken seriously. After all, they did defeat Manchester City in the previous round and did so with a very good display.
I love this competition. Unabashedly so. Primarily for the shocks. Whilst it is undeniably gratingly bloody awful when Arsenal succumb to lower league opponents, it's equally as hilarious when others fall at that particular hurdle. Anything can happen in the one-off nature of a cup tie and we need only look at Chelsea's howlingly funny defeat to Bradford to see just how unpredictable the FA Cup can be. Anyone can slip up, and it's usually the ones who don't think it can happen to them.
Today we go into the game as favourites with fans and pundits alike. Even the most ardent of Middlesborough fan assume a heavy defeat is in order, and most of them see their season's priority a return to the Premiership. So, I say it again; we are huge favourites today. 
That worries me. It always does.
For starters, I don't see the attention of our opponents being anywhere other than getting to the next round, regardless of what their fans say. They'll want to cause a shock, and they've enough in their locker to do so if they perform to the top of their game. Our biggest enemy is complacency. I expect a few changes today to disrupt the flow and this to be a very tricky game indeed.
Arsenal will need to focus and give Middlesborough the respect they deserve. They are here entirely on merit and won't be keen to simply make up the numbers.
The team news and selection should be very interesting. Arsene is certain to rest a few regulars. Sanchez will probably be wrapped in cotton wool to prevent any further flare ups with his knee. The same applies to Giroud who looked to be carrying a knock against Spurs and Leicester. Gabriel is likely to make his full debut and Szczesny will come in for Ospina. Ramsey, Debuchy, Arteta, Oxlade-Chamberlain and Wilshere all remain sidelined. Abou Diaby has taken up ballroom dancing and is unavailable for selection due to competition in Prague.
My wild guess at the team is:

The game should be won at a canter. It should be. On paper our team is better and we've the talent in attacking areas to give their defenders a torrid evening. However, if we adopt that mentality and allow ourselves to assume victory will be obtained, we are going to be in for an awkward time.
Arsenal need to start fast and assert their dominance. The longer the game remains scoreless. the more we invite something awful to happen. Pessimism aside, I shall predict a 2-1 victory today, with Middlesborough taking the lead just to test my bladder and mental state.
That's all for today, folks. The comments below await your thoughts on the team and the result? Are you a touch concerned about today? Let me know. I shall be back tomorrow with more.
Until then, and as always: thanks for reading, you beautiful bastards.