Morning folks.
There's quite a bit of stuff to get through today, so I shall put my customary platitudinous opening to one side and dive right in.
Carlos Tevez is on his way to Juventus. The news broke yesterday that the Italian giants and Manchester City have agreed a fee of £10m (that figure changes depending on which sources you read), and all that's left is the thrashing out of personal terms. Whilst far from done and dusted, it certainly looks very likely. The good news for Arsenal; Juve will surely drop their interest in Gonzalo Higuain now.
Perhaps they had no interest in 'The Hig' (not sure I like that) at all. Football agents are a wily, unscrupulous bunch and I wouldn't be surprised if other interest was a wild concoction to force Arsenal's hand. Real Madrid now have a newly installed manager in Carlo Ancelotti, so perhaps we might begin to see some genuine movement on the deal.
Elsewhere, yet another kit photo has found itself onto the Internet, and I've actually remembered where I saw this one. 101 Great Goals posted this yesterday afternoon: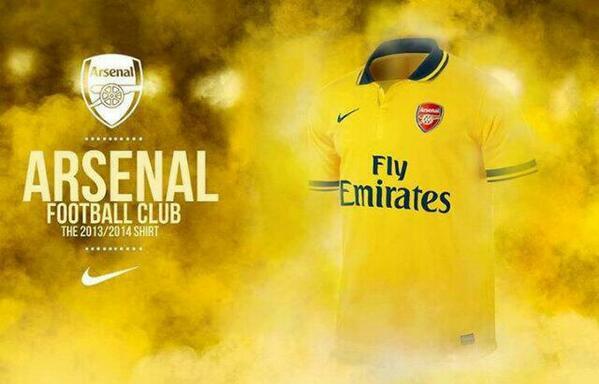 I really like that. Yes – it's probably the result of someone with good Photoshop skills and plenty of free time, but I do not care a jot. Yellow is the colour Arsenal should wear when playing away from home, and it's the simplicity of the shirt that impresses me the most. If that is to be Nike's final contribution to the cause before Puma take over in 2014, they'll certainly be leaving us on a high.
My lastly point of discussion today is something you've most likely already seen, but I liked enough to want to share in case you have not. My friends over at Goonersphere yesterday ran this creation from Ross Ackery:
If you fancy having a try at assembling your own Gervinho model to miss open goals and fall off the desk top when nobody is around, you can download the instructions and plans. I gave it a shot…
I have little or no patience when it comes to putting things together, and unfortunately was overcome with rage halfway through the process and had to burn my Gervinho. I'm not sure I would want one in the house anyway. There's something evil and unsettling about it, like it will invade my nightmares and touch me whilst I sleep.
And that's all I have for today, boys 'n' girls. My gainful employment is calling and I must respond. One day I'll be famous enough to take this site professional, but until that day I have to succumb to the pitfalls of normal working life.
Meh.
The comments are below. Feel free to pop down whatever may be floating around those complicated brainboxes of yours. As always; thanks for reading, you beautiful bastards.