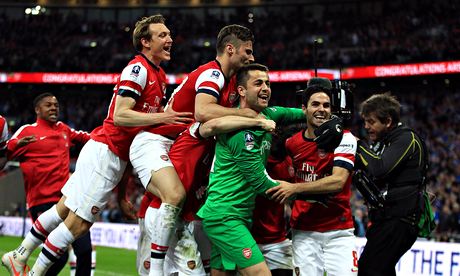 Morning, folks.
As I mentioned in an early entry of this here ol' bloggy thing of mine, I thought it would be of some modicum of entertainment for me to share with ya'll a few of my FA Cup memories from previous years. Some of them may not be what you'd consider truly fantastic occurrences the history books will fondly recall, but that's not the point. Anyone one can offer homogenous regurgitation of frequently revered events, I figured it'd be better to just share the moments that meant the most to me, for whatever reason.
I've always loved the FA Cup since I was a boy. Time and extravagancies elsewhere have stripped England's most famed cup competition of a little of its prestige, undoubtedly. The magic of the FA Cup seems diminished now as opposed to 20 years ago. However, it still retains some of what made it so memorable from my youth. Here are 5 of my favourite moments: 
Christopher Wreh against Wolves in 1998. Not the greatest game I've ever witnessed in my Arsenal supporting tenure, but one that often stands out in my mind because such an important goal was scored by a player who swiftly slipped into anonymity. Let's face it, Christopher Wreh was pretty bloody useless. He pitched in with the odd goal, but only featured due to the absence of both Wright and Bergkamp. Against a dogged Wolves that day, Patrick Vieira put in a display that really confirmed how much I loved him.
Thierry's comeback against Leeds. I imagine this will feature heavily in many FA Cup lists purely for the glorious fairytale of it all. I can watch that goal 50 times in succession and never tire of it.
Tony Adams vs Spurs in the 93 semi-final. I recall that this fixture was the first time we'd faced Spurs in such an important fixture since that free kick Gazza scored. That goal… I hate it with a passion. Big Tony's scrambled header to win the day was from from as mercurial, but boy did it feel good.
Kanu and Overmars 'unsporting' goal against Sheffield United. If you ever need an example of how much of a gentleman Arsene Wenger is, look no further. Instead of returning a ball Sheffield United had kicked out of play for an inured player, Kanu and Overmars scampered upfield and scored. Naughty naughty. It did not go down well with Steve Bruce. Arsene offered to replay the fixture in a gesture of good sportsmanship and a truly magnanimous moment from one of Football's true gentlemen.
It's only Ray Parlour. It was only Ray Parlour who curled one home from 25 yards to open the scoring against Chelsea in the 2002 final. Such a brilliant goal and almost eclipsed by Freddie Ljungberg's strike in the sane game. That phrase is now immortal, "It's only Ray Parlour" will haunt Tim Lovejoy until his final hours and rightfully so. Glorious strike.
Those are just a few of my favourite moments. Tomorrow I'll be posting my 5 most haunting and horrendous FA Cup recollections. Beneath this post lies the comments secion. There you can share with me and others your top 5 moments. Don't be shy, let me have a few.
As always; thanks for reading, you beautiful bastards.