Afternoon folks.
The big financial news of yesterday popped up in the Daily Mirror; Arsenal have secured the most lucrative sponsorship deal in England with sports giants Puma, and will receive a whopping £30m-per-year.
The new deal is alleged to begin in 2014, with Arsenal's long association with Nike not ending until then. I'm actually quite pleased with this. Obviously, from a monetary point of view, it's a huge boost of funds that we'd expect will go in some way to strengthening the team. Secondly, I'm a big fan of Puma's gear. I've never been the type to adorn myself in replica kits for leisure wear, but it's good to know that we are working with a company known for making quality product.
There have already been a few speculative mock-ups of our potential new shirts: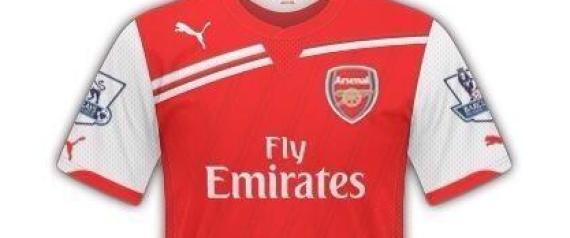 On to football matters. Last night's game ended relatively favourably for us. In an ideal world, Chelsea would have taken all the points, but a 2-2 draw at least affords us the advantage of knowing our destiny is in our own hands. Maximum points from our remaining fixtures against Wigan and Newcastle will see us qualify for one of the Champions League spots. The automatic qualification that comes from 3rd place may be out of our reach, but at this stage I'd quite happily settle for 4th.
The game itself I found impossible to watch. Having to be pleased when Chelsea scored a goal was akin to feeling delighted the moment a stranger sets one of your legs on fire. After Adebayor's dubiously dubbed "wonder goal" went in, I felt compelled to switch off the game and wait until full time for the result.
Spurs have remaining games away at Stoke and home to Sunderland. As I've previously stated on many an occasion, I still expect there to be plenty of twists and turns until the final resolution, and for matters to only be finalised on the last day of the season.
It is all in our hands now, but Arsenal aren't blessed with a vice-like grip, and are prone to slippery moments when the pressure is on. The team can ill-afford any bouts of complacency, and as supporters we can't allow ourselves to view it as a formality. In some quarters, I read folks who already just assume we'll despatch Wigan with ease on our own patch. If recent history has taught us anything, it's that this Arsenal team are capable of floundering and doing things the hard way during the least opportune of moments.
Nothing is secured yet. We all need to focus and make sure we get over line free from blunders and mishaps. Only when we sit in 4th, mathematically out of Tottenham's reach, can we begin to look forward to what the summer entails. It's been a topsey-turvey season, and not a memorable one. Let's hope it ends well.
The odds on Arsenal securing at least 4th are stacked in our favour, with Ladbrokes offering 2/7 in favour of Arsenal finishing in the top 4.
That's all for today, folks. There is a handy comments section below that eagerly awaits your opinions. Are you happy with the Puma deal and the revenue it will bring in? Are you pleased with the outcome of last night's satanic match-up? Drop me a line with a few of your thoughts.
As always; thanks for reading, you beautiful bastards.