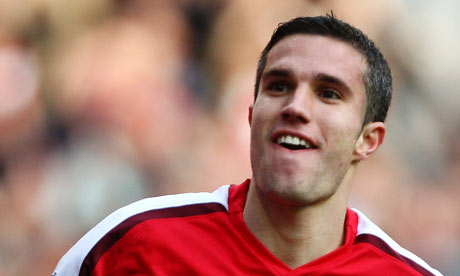 Evening again, folks.
By now, you've heard the news; Robin won't be extending his contract with Arsenal. There story broke earlier today on SSN, and he's given the following reasons for his decision:
"I personally have had a great season but my goal has been to win trophies with the team and to bring the club back to its glory days.

"Out of my huge respect for Mr Wenger, the players and the fans I don't want to go into any details, but unfortunately in this meeting it has again become clear to me that we in many aspects disagree on the way Arsenal FC should move forward.

"Everybody at the club and the fans have always supported me over the years and I have always given my all (and more) on and off the pitch. I am very proud of being part of this fantastic club for the last eight years.

"As soon as Mr Gazidis is back from his two-week holiday in America further meetings will follow and I will update you if and when there are more developments.
Balls.
I can't say I'm all that surprised, but I am disappointed. I'm not furious; I won't be stooping to the lows of some and filling his Twitter account with hateful bile and declarations of intent to cause harm. That's plain idiotic. However, I'd be lying if I said there wasn't just a little part of me that's annoyed. He only gave us one truly exceptional season, and that came after infinite patience was shown to him by the club. I know deep down that Robin owes nothing to anyone, and that loyalty in modern football is a fallacy, but I can't shake off being a touch aggrieved.
That said, now isn't the time to mope and moan. If he's made up his mind, then we should do the same. Slap a price on him, and offer him to the big guns around Europe. Get it done quickly, so we can use the incoming funds to bring in a couple of quality players. DO NOT under any circumstances sell him to Manchester City. I've had more than enough of those irksome moneybags' pilfering our players, and selling him to a rival is just plain stupid.
Given the part where he mentions the club's ambition, and how it doesn't match his own; I don't think keeping him another year is a good move either. I think we have no choice but to let him go.
And if that's the cards we're dealt, so be it. Arsenal are a club – we are not one player. No one could deny his contribution, or the fact he is an exceptional player. I wouldn't think to cast aspersion over a footballer I admire simply because he hasn't done what I want. I thank Robin for all his brilliance last season – as both a captain and a striker.
But, I also now wish him to leave. Things change, people come and go and the thing that remains is us; the fans. We survived the loss of Henry, Vieira and Pires. We'll certainly survive Robin van Persie.
The next few weeks could get very interesting indeed. Let's hope Arsene has planned for this.
Thanks for reading today (again), you lovely people. The comments are below. What do you think about the news? How have you taken his decision? Let me know – I look forward to reading a few.
I'll be back tomorrow.