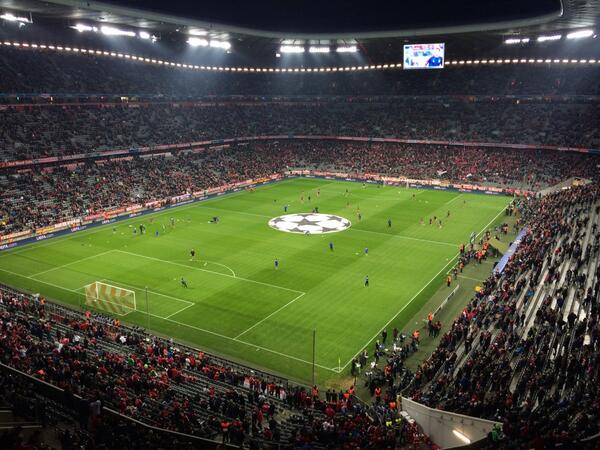 Morning, folks.
A brave defeat (over two legs). A triumphant exit. A magnificent failure. Those are some of the terms I'm sure people will use to describe Arsenal's performance and, alas, departure from the Champions League. There can be absolutely no shame attached to falling out of the competition (again) at the knock-out stages against Europe's elite, but I can't help but ponder the "what ifs" in retrospect. What if Mesut had buried that penalty. What if we had 11 v 11 for the entirety of both games.
Truthfully, last night was nothing more than a formality. We gave it our best shot, but faced with unsurmountable odds we succumbed to the inevitable. Bayern controlled the game for long periods, as you would expect, but on occasion we ruffled a few feathers and, albeit very briefly, threw the odd cat amongst their pigeons.
As with Saturday's game at Everton, I thought I'd briefly discuss a few of the players that stood out and then move on as, frankly, I don't feel all that devastated that we are no longer in the Champions League.
Lukas Podolski
I'm a big fan of the German. His left-foot is like a traction engine and he's arguably the most instinctive and ruthless finisher at the club. He has more than his fair share of indolent moments – Stoke – but when he wants to play and impress he can be massively effective. Last night's display and rocket-like finish was one of his better in an Arsenal shirt. He looked up for it.
Alex Oxlade-Chamberlian
Criminally, I neglected to mention him in my review of Saturday's cup victory. As was very much the case in that game, against Bayern he was a real threat with his bursting runs. Although deployed centrally alongside Mikel Arteta, he was constantly taking-on and beating some very accomplished players in Bayern's midfield. Of all the talented youngsters we have, The Ox is arguably the most talented of all.
Lukasz Fabianski
It's fair to say there was a point in Lukasz's Arsenal career where we all had doubts. Monumental doubts. Prone to lapses in concentration and confidence, he hardly instilled the upmost confidence. However, like many have, he's come through adversity to display signs of why he was rated so highly in the first place. At times this season he has been absolutely brilliant in goal and look as far removed from the much-malgined figure as it is possible to be. His improvisation to stop Muller's penalty was nothing short of brilliant. It'll be shame to see him leave in the summer, but he does deserve to be No1 somewhere.
Arjen Robben
Breaking the c**t-o-meter as always. Arguably the most irritating human being I've ever had the misfortune to lays eyes upon. Wishing injury on a professional footballer is something I would never condone, but I'm fairly certain I wouldn't have felt an ounce of sympathy had an Arsenal player lumped him into Row Z. No need to state it, really… Every football fan, including Bayern's, knows what an abhorrent little diver he is.
Now, folks, it's time to get to the bad news. Mesut Ozil's premature departure at half time set the alarm bells ringing. You could almost sense the air of "bloody hell, I know what's coming next" amongst Gooners. Sure as eggs is eggs, it was confirmed by Arsene after the game that Mesut will be out for a while with hamstring trouble – the duration varies depending on which publication you read. 4-6 weeks is the average estimate.
Arsene said afterwards:
"Mesut Ozil has a hamstring problem. It looks quite serious. For sure he's out for at least a few weeks"
I'd be shocked and upset if it wasn't so bloody typical of our luck. Without wishing to go anywhere near  debates about player mismanagement and the much-fabled "red zone", it does make you wonder whether the extent to which we suffer injuries is coincidence, fate or just mistakes on someone's part.
As someone with absolutely zero insight into how the Club is run behind closed doors, it would be both speculative and arrogant of me to offer an opinion. All I know is it's bloody annoying that we seem to lose players at vital moments with such frequency. Ozil will certainly miss the NLD on Sunday, and that will put that extra bit of pressure on the return of Aaron Ramsey. With huge games headed our way in the next few weeks, Mesut's form, despite what moronic journalists in the Daily Mail would have you believe, was just starting to pick up – it was hardly appalling to begin with.
I haven't linked to the article I'm referring to on purpose. My conscience won't allow such a feculent bundle of drivel merchanting to receive a single hit on account of me. I recommend you don't seek it out. You'll only get wound up by the insipid blathering of a drooling cretin who possesses the same measure of journalistic integrity I have in my penis.
But, hey – let's not end things on a downer. There is still much to play for this season. In order to keep things more upbeat, I thought I'd finish with this quote from Manuel Neuer after the game that raised a smile:
"I know Podolski & his left foot. I wasnt thinking of saving it, I was thinking of protecting my face"
That's all for today, folks. Use the comments below to discuss the game, the result and the stand-out players. Tomorrow I will return at the usual time with more. Until then, and as always; thanks for reading, you beautiful bastards.