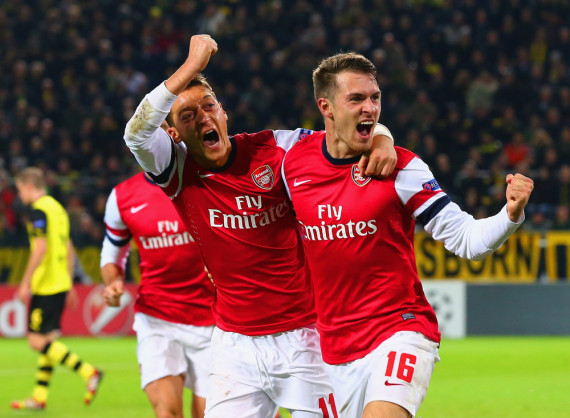 Morning, folks.
Let's all sit back a moment and enjoy that.
*grins*
It's wise to be cautious. I've never been one for loud-mouthed proclamations and blind certainty. Until honours are won and secured, gloating is something that remains on the back burner. However, caution, as wise as it may be, shouldn't stop anyone enjoying Arsenal's current form. It is early days yet, there is still plenty of football to be played before the honours are dished out. But, the team are constantly sticking two triumphant fingers up to the many so-called 'pundits' out there who write them off. It is glorious.
Last night in Germany was far from a showcase for Arsenal's attacking verve and ability. It presented the other side to our game, the side regularly sited as our weakness; defensive solidity. Against excellent opponents in a stadium known to be loud and intimidating, the players stuck to their task, kept their shape and universally played for one another.
It's that which gives me the most pleasure. In season's gone by, we've rarely lacked the ability to score goals. But we have missed that Arsenal backs-to-the-wall togetherness and resolute defending. Arsenal could always outplay opposition, nowadays it seems we can do that, but also outfight and outthink them if we have to. Our performance in Dortmund pleased me for many, many reasons, mostly because it reminded me of some of our great smash-and-grab victories of the past.
Our back four is superb at the moment. Sagna, Gibbs, Koscielny and Mertesacker are arguably the strongest unit around. I'm sure that statement is dripping with bias and the euphoria of triumph, but I care not a jot. I genuinely believe it, and with Szczsney is fine form directly behind them, we look a very tough nut to crack.
What impressed me most was the contribution made by our midifeld. They can hold on to the ball and pass with the best of them, but when possession is relinquished, they harry, scrap and fight. Look no further than Tomas Rosicky as an example. A technically gifted playmaker who didn't stop running and putting in tackles. In the absence of the tough-tackling Flamini, Arteta has shown that a calm head and footballing knowledge in the holding role is equally as effective and The Flame's all action displays. Even Mesut Ozil puts in the occasional tackle.
It's a team mentality. They have an apparent spirit and togetherness. That's what is most important. Arsenal look like genuine contenders because we are more of a team than I've seen for a while. The kudos in main will go to Aaron Ramsey for another vital goal to add to his growing collection. The Welshman's breakthrough form is nothing short of astonishing. With his troubles in the past year well documented and often very unfairly lamented, he has made progression in an astounding manner. I've said it before; I challenge anyone to name a player in greater form across all of Europe's big leagues. After the game, Arsene Wenger had these words to say:
"A year ago I thought it would be difficult for him to score but he is a young player and is confident and has improved tremendously – which is a huge credit to him."
In a month sited by all as a true test of our mettle, Arsenal have come through challenges with victories and good performances. We have a trip to Old Trafford on Sunday. A win there would be the icing on an already delicious few weeks. Underestimating United because of their recent blunders would be a stupid thing to do. They are still the reigning champions, and there's little doubt in my mind they will raise their game.
I have faith we can get a result. I have faith the team will perform as well as they have been doing. Arsenal are looking the real deal, and we should all enjoy it – especially those in our fanbase desperate for something to go wrong so they can have a good moan.
That's all for today, folks. Use the comments below to tell me your thoughts on the game. As always; thanks for reading, you beautiful bastards.