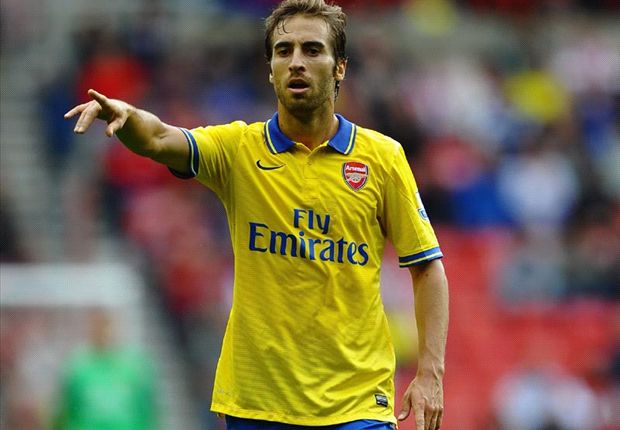 Morning, folks.
Yesterday was another in Arsenal's recent run of fine victories and I was unable to watch a single solitary second of it live. Having scoured through as much of the highlights as I can get my grubby little paws on, I've come to the conclusion that it's simply not the same. A rather obvious and pointless conclusion to make, but a conclusion nonetheless. Big Ted watched the game in it's entirety, and gave an in depth report when I got home. He's good natured like that.
Had I been asked by any of you before kick-off if a point at Cardiff would have been a successful outcome, I doubt you'd have heard many complaints. Both Manchester teams travelled to Wales' capital and only returned with a point between them. With a vociferous and intimidating support it is certainly not an easy place to go.
In hindsight, my sights were set a little low. Arsenal's rich vein of form dictates me aiming a little higher. Damn you, pessimistic side of my personality.
Now that I've seen all the major talking points and treats on the eye, I can safely assume it was a very good performance. Ramsey showed his class both with his performance on the pitch and his level of respect to the Club where it all started for him. The home support showed genuine affection to Aaron, and he seemed visibly moved by the reception he got. Credit to those fans in the stadium for showing such an act of appreciation – although, I do seem to recall Cardiff supporters booing Ramsey when we played in the FA Cup a few years ago. We shan't mention that… (I'm kidding if any of them are reading).
It was also good to see Mesut Ozil back amongst the assists. I'm sure the doubters will say the usual "It was only Cardiff" dross, but those are folks best ignored. He his goal creating passes where exquisite. He looked a little tired at some points and it's plain to see his integration into the team isn't complete. Yet he tops the assist list in the Premiership and he started a few games later that most. Imagine what he'll be like once he's fully settled.  I have just sullied myself at the very thought.
My final mention will come as no surprise to those of you that read my blog, and was predicted by a couple of my Twitter friends:
I bet @_ArmchairGooner's nutsack exploded when the Flame scored.

— Daniel Arsenal Cowan (@thedanielcowan) November 30, 2013
In a dark corner in Bristol, @_ArmchairGooner has just exploded in orgasmic bliss following The Flames goal.

— Dyllan Munro (@GoonerDyllan) November 30, 2013
Both completely accurate. Perhaps not in the literal sense – I'll leave that up to your imagination – but to say I was overjoyed would be a huge understatment. His finish from Ozil's pass had the word 'emphatic' written all over it. I love Flamini. Some seem to assume this means I don't rate Arteta, which is not true. I think Mikel is a vital part of the Arsenal set-up and has performed wonderfully this season. I just prefer The Flame, that's all. simple personal preference and nothing else It was brilliant to see him score and look so utterly elated afterwards. Not sure what he's doing bursting into the box like that, mind you.
All in all, it was another excellent 3 points and a victory that casts aside any fears of a November capitulation to rival similar occurrences we've seen in seasons past. This Arsenal team has something different to it; a quality that's apparent to all of us who watch the team regularly . To claim we will win the league at this point is still premature, but there is absolutely no reason not to dream. I believe we can. So should you.
That's all for today, folks. Take yourselves over the the comments and drop me a line. Tell me all about your thoughts on the game and the ever-increasing momentum Arsenal possess. There's plenty to enjoy today.
As always: thanks for reading, you beautiful bastards.
PS – Don't forget to check out this weeks edition of The Goonersphere Podcast. It's a  cracker of a show; filled with the usual discussion and jarringly strange sexual declarations. Daniel and I are joined by Andrew from Arseblog and Danny from A Bergkamp Wonderland.