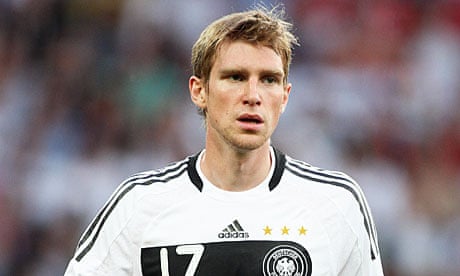 Morning, folks.
I've decided that I'm going to blog here and there, every now and then. Keeping things going on a daily basis when it's just you is pretty tricky and I've a personal life as well as a hectic work schedule to contend with.
Excuses, excuses…
Truth is, I can be pretty fu*king bone-idle at times. Often the allure of shooting strangers in the face with a bazooka on GTA5 is too much to ignore and precious time allotted for blogging is quickly eaten into. Other times I simply can't muster the inclination to waltz my digits across the keyboard.
Today I thought I'd discuss Per Mertesacker.
As an Arsenal player, it's very easy to go from hero to zero with one poor performance. Olivier Giroud especially seem to spend most of his time veering wildly from one extreme to the other in the eyes of our supporters. One moment, a genuinely world-class striker, the next a meandering carthorse capable of offering nothing more than frustration.
Thanks to what was a breathtakingly sh*t-awful display against Monaco (the less I say about that particular fiasco, the better) our beloved BFG finds himself on the wrong end of animal comparisons and some fans are already caterwauling for his omission from the team and, presumably, the planet also.
It's amazing how quickly opinion can change. Well… actually it's not. If you've spent any time at all on Twitter you'll already know hatred, bile and spectacular knee-jerk reactions are all daily occurrences. Even when it comes to a player who's been an excellent servant to the Club.
There's no denying Per lacks pace. In fact, it's far more accurate to state that the difference between his walking speed and running speed is minimal. An Olympic sprinter he is not. His game has never been about the quickness of body to recover from situations; his strength is the quickness of mind to prevent things from happening in the first place. Per is a superb reader of the game.
However, that strength is dependent on others. Per Mertesacker is the type of central defender that requires a quick partner to be truly effective – imagine a team with two Mertesackers at the back and it would be very susceptible to anyone running at so much as a canter. With Koscielny alongside him, he has the perfect foil; someone who's game compliments his perfectly and enables him to do the things he's good at.
Most of all, Per's game requires form, and perhaps there is an element in which he's been lacking this season. The regular lack of a stable partner certainly hasn't helped, but many of us have seen chinks begin to appear in his armour. One appalling game certainly doesn't equate to a player suddenly becoming useless, but over the course of the season I've seen reasons for concern.
He doesn't appear as confident or as solid these days. His decision making isn't as accurate as past seasons. All players dwindle in terms of ability as their years progress. There will come a time when every member of the Arsenal squad doesn't have what it takes to perform at the top level. It comes at various times for all players – some lose it at 28, others at 36. As much as I love The BFG, as much as I don't dispute he has much to offer Arsenal, that time might be on its way a lot sooner that later.
With Gabriel showing signs of being an excellent addition and certainly more mobile, I don't think it will be long before we have a new partnership that is considered 1st choice.
That's just my opinion, folks. What the hell do I know? Not much. Why not use the comments below to tell me exactly what you think? I'll try to reply to a few when i get a minute.
I'll be back soon with more. Until then, why not listen to the latest Goonersphere Podcast in which Daniel, Sim, Michael and I discuss the recent happenings at Arsenal and cruelly mock one another for cheap laughs.

As always; thanks for reading, you beautiful bastards.