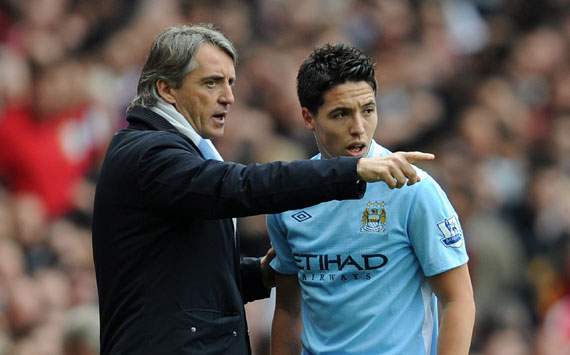 FA Premiership, April 8th: Arsenal 1-0 Manchester City
Easter Monday greetings, folks.
Great result yesterday, wasn't it? I do enjoy the glory of basking in a favourable result. Having been stuck at the soul destroying dungeon that is my work place for a full 12 hours yesterday, I've just finished watching the game highlights (It's 1am in the morning as I'm writing). During the live events, I was in the middle of serving 70 roast beef dinners to a bunch of wedding guests who'd decided to run late – the inconsiderate fuckers. I had to surreptitiously check my phone at the earliest available moment just to keep up with the score and events. Thanks, Twitter folks for keeping me in the know.
I fucking hate being a Chef. Time for a career change. Anyone want to pay me to write this blog everyday?
The game itself was a tale of Arsenal superiority and petulance from our opponents; Balotelli may have been slightly amusing for a while, but he's nothing more than a talented moron who's more trouble than he's worth. What I saw, and what made the difference was simple; City may have had the better individuals, but we are a better team.
From the opening exchanges, and through to the final whistle, we dominated the game. Our passing was sharper, our players hungrier and our endeavour bore greater result. We even managed to stake a claim for miss of the season thanks to a quite unbelievable double blunder mere yards from the goal courtesy of Vermaelen and Benayoun. City didn't even register a single shot on target.
For all that superiority, we still had to suffer a few nervy moments and wait until the 85th minute for Mikel Arteta to steal the ball in midfield and thunder it past Joe Hart. It was a great strike from the Spaniard – a player who's quietly been putting in excellent displays since he arrived. The midfield was the key area and where we won the game. The quartet of Song, Rosicky, Aretea and the surprise inclusion, Benayoun kept possession and probed until a decisive pass was available – Song floated another of his customary floated, diagonal chipped passes to van Persie at one point, and was only denied another assist when the Dutchman's header struck a post.
I expected more from City. They have undoubted talent – and Nasri – at their disposal, but an uninitiated watcher would have been forgiven for thinking Arsenal were the team chasing a league title. It goes to show that assembling a squad of mercenaries, money-grabbers and ego-maniacs guarantees you nothing in Football. Having a team with spirit and unity is essential, and the business end of the season has shown us how much City don't have that.
Best of all, it'll be immensely satisfying to see Samir Nasri end up with nothing at the end of the season – he deserves exactly that, the horse-faced urchin. I hope he took a good long look at The Emirates faithful doing the Poznan and remembered his comments regarding a "lack of passion".
Great day, great result. Our match-winner, Mikel Arteta has rightly been singled out for praise, and I'm one of his biggest fans. I love his unfussy, team-first approach. He doesn't showboat or do anything flashy, he always puts in a shift and plays for his teammates. I hope he's at the club for a good few years yet, and he's expressed the same desire himself:
"I would like to finish at Arsenal because I am happy here and I think they are the type of club that suit my life and personal ambitions.

"In the Spanish mentality, when you talk about being over 30, you are old. In England, they are more respectful. There are players who are 35, 36 and there are goalkeepers who are 40 who still play here and are respected. I prefer to call them experienced players.

"We have a lot of players who are 17 or 18 years of age and when I see players like Alex Oxlade-Chamberlain coming through, I am jealous. I wish I was 18 again."
Lastly today, there is an utterly ridiculous and spectacularly unsubstantiated story in the The People claiming we'll be selling on Per Mertesacker at the season's end. The story is truly awful: there's no information, just speculative drivel of the worst kind. I can't imagine why we'd sell someone after one season. He's had a few bad moments, but a fair few in our team can stake the same claim. He's a good player, he reads the game well and he'll only get better for us.
Dopey tabloids…
That's all for today, darlings. I hope you enjoyed the win wherever you watched it. Let me know in the comments how the day panned out for you, I'd be interested to hear a few of your stories.
Thanks for reading, you beautiful bastards. Take a moment to commen tand follow me on Twitter – @_ArmchairGooner