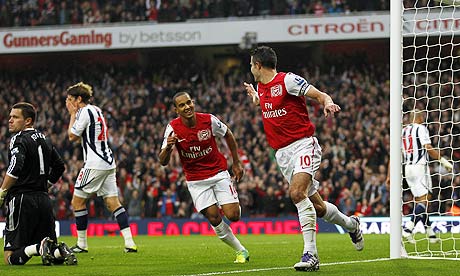 FA Premiership, May 13th: West Brom Vs Arsenal.
Sunday morning greetings to you, possessor of the jangling nerves.
The big day is upon us. A season of ups and downs, high and lows, boils down to 90 minutes of football. 37 Premiership outings that featured before today serve only as an irrelevance. Wining will secure the prize we covet, regardless of the efforts of others.
I'm sure that the nerves are truly begining to kick in for you, aren't they? This morning, I'm a cacophony of gaseous exhaust and I havent sat still for a period of longer than 5 minutes – it's taken several attempts to complete this post. On the face of things, I'd expect this Arsenal team to dispatch a West Brom side missing it's top scorer and other key individuals with minimal fuss. However, we all know of our team's desire to make things as excruciating as possible.
It's well documented that it's Hodgson's last match in charge of the Baggies. Taking that into account, the ground is certain to be loud and intimidating, and the supporters will want to see things signed off in style. West Brom have nothing to lose or gain. Hopefully, they'll come out and play openly with a view to attacking. That should enable our attackers more space to exploit, and more chances created for Robin. I expect us to score. My main worry is how we defend.
If the cavalier positioning of the back four is there, we'll concede. We need a tight unit in defence, and we need the midfield to support and cover. If Vermaelen is bounding through the midfield to aid an attack, someone has to fill in. If West Brom try to attack our full-backs, they'll need help from the players out wide in front of them.  If we get a lead, let's ensure we remain tight at the back, and don't repeat the same errors made last week.
With Sagna, Arteta, Wilshire, Diaby and Mertesacker all definately out, and with Szczsney's shoulder injury non-restrictive and Theo only expected to make the bench; my guess at the starting XI would be:
Szczsney; Coquelin, Vermaelen, Koscielny, Gibbs; Song, Ramsey, Rosicky, Benayoun, Gervinho; van Persie
We have the pace of Theo and Chamberlain from the bench, and Chamakh caused Norwich a few problems last week, and he could be useful in the air if we get desperate in the final 10 minutes. I hope we will win, every part of my anatomy I'm able to cross will be crossed for the remainder of the minutes leading up to kick-off.
I'll guess and 2-1 to Arsenal, but it won't be comfortable viewing for the fans.
Thanks for reading, you beautiful bastards. Take a moment to comment with your ideal starting XI and don't forget to follow my Twitter account @_ArmchairGooner