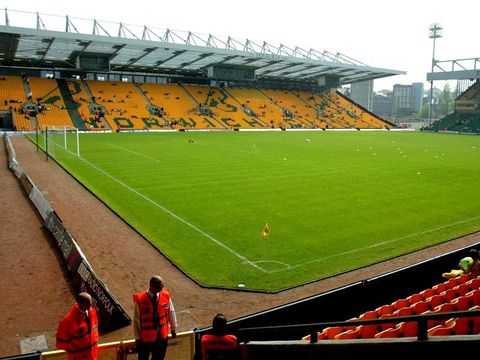 Morning folks.
We'll start with the good news, shall we. Jack Wilshere is in the Arsenal squad for today's fixture. Will he start? I'd say that's highly unlikely. Will he feature? I'd same that's very likely . Given how cautious Arsene has been with his reintegration, I don't think Jack would be there at all if he wasn't absolutely ready to play.
There are a few notable absences. Koscielny will miss out, Gibbs and Walcott are still nursing injuries sustained in the past week, and Diaby, Rosicky, Fabianski and Szczsney are all some way from making a return to action. Sagna is close to returning to full fitness, but he's unlikely to be included to the squad – I haven't heard news either way, so that's a bit of an assumption.
I expect Arsenal to line up like this:
Norwich havent had the best of starts to the season. Previously, under Paul Lambert, they were tough opponents to crack at home, and whilst they've had the odd respectable draw here and there, they've not secured 3 points in 7 attempts. Statistics like those always worry me. It's as if someone is purposely trying to plant complacency in the minds of our players, or make us fans assume we'll be in for a stroll in the park and an easy win.
I expect a tough game, and a full-blooded approach from Norwich. I doubt they'll try and beat us at the possession game, or commit too many forward in the search for goals. I would be surprised if they approached the game in any way other than allowing us to dictate play, and hoping to counter.
The side I've predicted is strong enough, and has enough quality to comfortably win this game. Any team with title aspirations will look at fixtures like this as critical; winning the tricky away fixtures you're expected to is vital, and rarely as easy as it's made out to be.
The players will need to be focused, and concentrate fully in defence. I think we look a better, more organised unit when our back four has the balance of Mertesacker partnering Vermaelen/Koscielny. If we defend well, we'll win the game. I doubt Norwich will prevent us from scoring.
The comments are below. What are your thoughts? Would you start with a different line up? Let me know.
Thanks for reading today, you beautiful little devils, you.
Remember, if you fancy a flutter, head over to Bet Victor for all the latest odds – just click the link below.