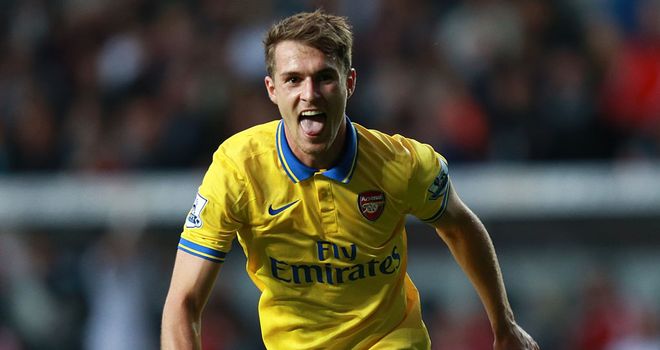 Morning folks.
There's a lot to be said for a team mentality. In recent seasons, I've looked at my beloved Arsenal and seen an abundance of very talented individuals, but what's usually been the missing ingredient is a collective desire to win. When I cast my eyes over the current squad, I see both those things. It genuinely fills me with hope and expectation for what this group of players can accomplish.
A trip to Swansea might sound to some as a relatively easy fixture, but it is anything but.  Michael Laudrup's team play excellent football, have a nucleus of now-experienced Premiership players and will give anyone a game on their own turf. The fact that they recently won away from home comprehensively against  Valencia shows you how good they are. 
Recent Arsenal teams might have slipped up yesterday, or fallen victim to the pressure on them to take advantage of rivals faltering earlier in the day – the results were very kind to us. This team did not, they defended resolutely and as a unit, and after a achingly tedious first half, burst into life to score quick goals in the early stages of the second period. The only shame was Mesut Ozil spurning a chance to open his Arsenal account.
As mentioned, what stood out for me was not one single performance, but the togetherness of the team. In defence, we looked secure and solid, and on the few occasion the rear guard was breached, we could rely on Szczsney's excellent form. In attack,  we were graced with the odd flash of typically 'Arsenal' football – quick exchanges of passes in tight areas, and some wonderful little cameos.
Aaron Ramsey took the MOTM award for another accomplished display. His transformation has been startling. Once a maligned figure branded as every vulgarity under the sun, Aaron now is comfortably the in-form midfielder in Europe – I challenge anyone to produce facts or statistics to prove otherwise. He's obviously put in the hard work, and that's now paying dividends. Nobody deserves it more than he does. When things didn't go his way, he didn't hide, or blame the circumstances he's had to endure – he worked through it.
However, those of you that read this will know I have an unabashed affinity for The Flame. I love MatFlam. He's got that tenacity in his play we've missed for some time. He puts himself about, shields the back 4 with discipline and knows how to be vocal and rally the troops. His signing didn't come with the fanfare Ozil's did, some even sneered at his arrival as another of Arsene's 'penny pinching' deals. Make no mistake, delicious reader, Flamini  was a very important acquisition.
Writing now, I'm filled with hope. I think of the future, what could happen, how excited I am going to be when Ozil and Cazorla take to the field together, how much depth in reserve we will actually have when the injury curse finally relents.  It's an exciting time to be a Gooner. Talk of challenging for the title and the other prestigious competitions on offer may be premature at this stage, but if we continue to perform and get the results, then don't think there is any reason at all why we can't do exactly that. If the players believe it's possible then I'm inclined to feel the same way. Aaron Ramsey certainly does:
 "That's our target, We have a lot of quality. We've had a lot of injuries recently but we've managed to dig in and put a load of wins together and hopefully now we get players back and we're in with a shout."
Good times might just lie ahead.
That's all for today folks. I must leave you to prepare myself for today's Goonersphere podcast. Myself and Daniel Cowan have some interesting ideas on the way, I I certainly hope you'll tune in to discover what we're up to. If you missed our debut attempt – and the awful sound we have endeavoured to rectify – you can have a listen to it here.
Until tomorrow, please leave me comment regarding the game, you thoughts for the future and whatever else you might feel like sharing. As always; thanks for reading, you beautiful bastards.