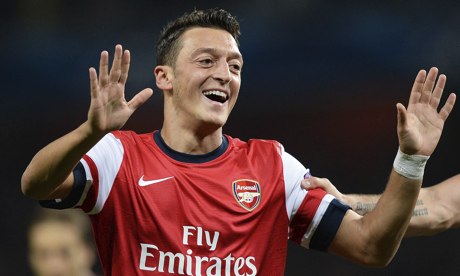 Morning, folks.
That noise you can hear very subtly in the distance is a glorious fanfare. It signals the end of my self-imposed hiatus and a triumphant return to regular blogging. Go outside, join in with the spectacular parade. I know you've missed me…
Okay, perhaps I just slipped into the doldrums and obscurity and nobody noticed at all. Maybe… However, I prefer to believe the first scenario because it's much more fun and I enjoy pretending to be a vital member of Arsenal's online community…
Right, to more serious matters.
Since I last blogged, Arsenal have registered two impressive 3-0 victories and thanks to Everton's untimely blundering (untimely for them) we look all set to accomplish the bare minimum of 4th place and Champions League qualification. Obviously, that's a good thing, but I can't help but feel ever-so-slightly "meh" about it all.
Granted it undoubtedly has the glitz and the razzamatazz you'd expect from the premier competition in Europe, but our campaigns are seemingly interminably doomed. Wether it be down to luck or our own doings, the same thing seems to happen year after year; we initially cruise the group stages only to falter enough towards the end to ensure we'll finish second and meet a big team in the knock-out stages who'll put us out. Perhaps I'm growing irascible these days, but it does get on my nerves a bit.
Of course, it's better to be in it than not. When your have players the calibre of Mesut Ozil within your ranks and you wish to attract others, it's a huge selling point. On the subject of our German friend, I'm currently re-watching the Newcastle game as I type this and he's just performed a quite brilliant 'Cruyff' turn to bamboozle two of The Toon's defenders. I do love a little Mesut porn. When he's in a twinkle-toes mood, he has such poise and grace about him; making even the toughest of skills appear embarrassingly simple. Since his return, those moments have occurred more often and I'm hoping my prediction of a barnstorming second season comes true.
In news that's actually serve with a small measure of importance, Alex Oxlade-Chamberlian looks set to face to battle to be ready for the FA Cup final. Omitted from Monday's fixture with a groin problem which has since inflamed. Speaking to the press, Arsene said:
"He couldn't practise. I put him on Friday on the team sheet and played him when he was needed, but it came to a point where it didn't progress. We decided to give him a complete rest for two weeks. Will he be involved with me? I think he has a chance. But will he be ready for England? I think so."
Given we often lack surging pace from deep when attacking, The Ox could prove to be a big miss – not so much the remaining league fixtures, but certainly for the FA Cup final against Hull. It would also be cruel on him should he miss out because some of his best performances have come on the road the Wembley.
Lastly today I'd thought I'd take a moment to mention something of note. EWhilst doing some of my surfing around the Internet, I found lots of great news –  including my blog posts – in the Fanzo App for iOS. Check out the Arsenal Channel for real-time updates on the team and the players.
That's all for today, folks. It sure is nice to be back with you all. I hope you'll take a moment to head toward the comments section and leave me a few of your thoughts on whatever might be swirling around those magnificent brains you have.
As always; thanks for reading, you beautiful bastards.