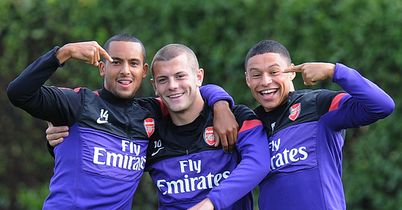 Morning, folks.
Just a quick one today.
I'm sure by now you've all heard the exceedingly good news. After an absence of well over a year, Jack Wilshere has made his long-awaited return to first team affairs.
Sensibly, AW had the following to say about yesterday's news:
"We are so pleased that Jack is back in full training. It's been 14 months and that's a long time for someone at his age. It's an eternity, but it's great news.

"We have to give him a few training sessions to see how he copes and responds to it. That's the delicate, sensitive stage – to choose when to bring him in and out.

"We'll have to handle that day-by-day."
I totally agree.
Some folks I've read around various outlets and profiles are already clamouring for his inclusion against Man City on Sunday. That would be extremely foolish. I'm as eager as anyone to see him combining with Arteta and Cazorla in the midfield. But, after such a prolonged period on the sidelines, he has to be nurtured and allowed time to regain match fitness and confidence. I don't for a second doubt that he has all the makings of a world-class player, but to expect him to jump right back into the form he showed before his injury would be asking way too much.
Along with Jack, the inimitable Emmanuel Frimpong has also started training with the first team after a serious injury lay-off. Frimpong I can't help but love. He may lack a little bit of talent, but he certainly makes up for that with determination, power and good old fashioned guts. He's one of those players those of us old enough to remember from times past that we constantly say Arsenal need; a battler, someone not afraid to kick the shit out of the opposition – something he showed whilst on loan at Wolves playing at White Hart Lane. Plus, he hates Nasri, so how could you not love him? (Okay, I admit his tweets are fucking irritating)
It's good to have them back, and with Sagna and Rosicky also on the mend, our strength-in-depth is beginning to look very good indeed.
How do you think the re-integration of both players should be handled? Do you think we should get Jack back playing as soon as possible, or do you prefer a more cautious approach? Let me know in the comments.
Thanks for reading, you scrumptious individuals. I shall return.