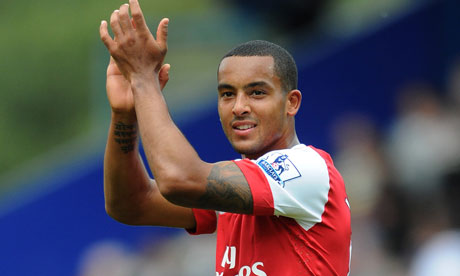 Morning folks!
Usually, I'd liken any contract saga with an Arsenal player to the third Lord of the Rings film – interminable, and with somewhere in the region of 37 apparent resolutions. The current carry-on with Theo is more like the third Matrix film – baffling to me in every respect.
He said he wants to stay. We've said we want him to stay. Either there's a great deal of truth hidden from the general public, or this should have been put to bed quite some time ago. With no amicable solution any nearer, our manager has stated Theo will be here until at least the end of the season. When quizzed about selling Walcott in January, Arsene said:
"No, that is for sure. My gut feeling is that he belongs to this club and that I hope he will sign for us. I always am convinced he will stay.

"You never fix yourself a limit on financial restrictions. At the end of the day, can you pay what the player wants? And does it fit with your wage structure?

"I have always fought for the players to make money so I am happy when the players make big money. But it has to be made possible for the club to pay it.
Make of that what you will. Does Theo have excessive demands? It's possible. In fact, it is the only logical reason I can muster, other than he simply wants to leave, but doesn't want to endure the fan backlash if he says as much. The whole thing is getting farcical. Sign on, or leave, Mr Walcott. The choice isn't that tough.
Elsewhere in news, it would appear January acquisitions are on the cards. Every ex-player, fan, and two-bit radio personality feels we desperately need reinforcements. The vast majority of bloggers – me included – share that sentiment. Using the kind of non-committal jargon he has become famous for, Arsene was also quoted as saying this on the subject:
"If we can add one or two exceptional players, we will do it,"

"What we do not want to do is add players just because people put us under pressure to buy players.

"That is where we have to be strong enough. If we find a player who will give us something special, we will do it, but that, in January, will not be easy.

"We have money, and why should I not spend it if it is to find the right players?
It's the word 'exceptional' that he regularly uses, almost as an excuse – so he can say, "we didn't find anyone exceptional enough" when the deals don't materialise. The team needs to be strengthened, and I've faith our manager sees that, and will act accordingly. Failure to do so could just be the final straw should we suffer a similar blip to last January.
Lastly today, the Champions League draw sees us up against formidable opponents in Bayern Munich. I was certain we'd suffer at the hands of fate and face Barcelona again, and whilst it's a pleasent surprise to avoid them, we still find ourselves with a very tough draw.
Can we progress? Yes, absolutely. I've an odd feeling of confidence about the game. Chelsea and Liverpool have both put aside poor league form in recent years to lift the trophy, the smiling optimist in me sees no reason why we can't do the same…
That's all for today folks. Leave me a comment or two – what do you think of the draw, Arsene's comments and Theo's continual contract stalling? Let me know.
Thanks for reading!